To the country - 19. In total as always on the eve of a holiday. In the capital from hundred billboards the president urges it to love, and itself is going to go to Kanev for it to pray. By Day of the miner it is ordered to pay to miners all to kopek debt on a salary. Probably, something prepares solemn. Parade won't take place, it already was in Sevastopol.
To Birthday the country came with the fourth president and it is difficult the calculated prime minister - the fourteenth, except for five deputies but if to count Yulia Vladimirovna and Victor Fedorovich twice as it is necessary, Nikolay Yanovich will turn out the nineteenth, it seems. And how many was during this time soldiers on Bank, servants of the people on the Grushevsky street and ministers of all capital and in its vicinities! State dachas already on an outcome, year - two, you look, there will be nothing to give in lifelong using. And all these soldiers, us chosen and them appointed, built our independent state …
Therefore and as always on the eve of a holiday the sociological service of the Center of Razumkov asked citizens about their relation to independence - to the fact and a holiday, and also to all this soldier Luda - to the president, parliament, the government. And having received answers, I found out that the situation in the country and its politicum bears a strong resemblance August, 2005 far already. Why - about it below.
At first a holiday and that citizens think of it.
Independence: fact, reality and holiday
84% of citizens participated on December 1, 1991 in a referendum.
From them maintained the state independence of Ukraine - 90%, voted against - about 8%.
Historic fact
We will begin with the good.
We on - former in the majority maintain independence of the country. If the corresponding referendum took place today, 59% of citizens would vote for independence, against - 21%. Wouldn't come to sites or would doubt before their closing - 20%. The last of a further statement we exclude: and so figures - not to force the way, and to hundred all are able to consider if is that.
Three circumstances are important also.
The first - at all our distinctions the number of supporters of independence exceeds number of her opponents in all regions: from 86% against 7% in the West to 46% against 34% in the east.
The second - independence has the future. Her support in all age groups, but among youth it is more: 18-29- the summer - 65% against 13%. In the senior group (60 years and more) - 59% against 24%.
The third - even those who considers that their family from finding by the independence country lost more, than won, today all the same would vote for independence. Among those who won rather, independence is maintained by 87% against 6%, among the lost - 38% against 39%. It is less, but nevertheless. If to consider that as a whole considering in a prize - 26%, and those who lost rather, - 42%...
But we won't be about sad, it is better - about interesting.
It was interesting to compare data of 2010 not only with data of year previous as we usually do it. And to consider that August-2010 is very similar for August-2005. And then the country celebrated a holiday with the new president - Victor Andreevich Yushchenko, and now - with new Victor Fedorovich Yanukovych. And then by the time of a holiday the president and his orange team there were in power half a year, and is now white - blue team as much …
To compare - that yes, but figures nemeryano, and the editor told that any paling, there are less than figures, there are more than thoughts. With thoughts absolutely badly, on the eve of the People's Deputy Lukyanov I listened, so I can't still recover, painfully thinking who the Ukrainian state created - not that tax, not that Nikolay Yanovich. Didn't hear?
Therefore figures will be much. But if look - you won't regret.
So, we will repeat: today 59% of citizens would vote for independence, against - 21%. Last year, the last year Victor Andreevich's cadences: for - 51% against - 25%.
Now we will look for August 2005-го: for - 60%, against - 20%. And, respectively, on 2004-й, the last year Leonid Danilovich's cadences: for - 53%, against - 28%.
Probably? Fluctuations not especially, but are noticeable, and already in itself are interesting. Further - it is more.
If to compare August-2005 and August-2010, differences in the general figures isn't present. But on closer examination it appears that the difference is - and consists as and it is necessary to it, in details - regional.
We will begin with today.
Today sharply level of support of independence of the country inhabitants of the South rose.If last year on a hypothetical referendum independence would be maintained by 36% of southerners, now - 65%. Didn't support - 32% and 15%, respectively.
In 2005 of such lifting in the south it wasn't observed: then 43% of southerners would vote for independence, against - 30%.
Lifting was in the country Center: for independence would give votes of 66% of inhabitants, and against - only 15%. But now 54% (contra - 10%) are pro ready to vote. It is slightly less, huh?
In dynamics of support / not independence supports by inhabitants of the West and the East of special differences it isn't observed. In the West support of independence is steady, despite of everything: as there were last year of 86% against 4%, so practically and remained.
Why there are no sharp differences in the east - difficultly to tell, the East is the East, however some fluctuations are noted. So, if last year 41% of inhabitants of the region vote for independence, now - 46%, as well as in August-2005. Then opponents of independence, however, was less - 30%, and in recent years their 34-35%.
The following question to citizens - whether they consider the country, 19 years independent - Jure independent - the fact?
As it became clear, not really. And again with interesting features.
In August-2005 really independent the country 49% of citizens against 37% assured of the return considered, balance - positive. In August 2009 - already 33% against 54% as we see, balance negative.
Now really independent the country 43% of her citizens against 45% consider, balance actually zero, considering an error.
Notable change of positions is again observed at inhabitants of the South, the Center and this time - the West.
South. In August-2005 independence of the country - the fact was noted only by 35% of southerners against 51% assured of the return. These figures practically didn't change during the whole period of a cadence of Victor Andreevich and last year made 36% against 52%, respectively. But now the country is believed by 67% of inhabitants of the region really independent already against 23%. I here too consider: Putin "independent" told, means independent …
West. In August 2005 really independent the country was considered by 66% of inhabitants of the region against 25% feeling differently. In August 2009-го - already it is less, 59% against 28%. And today - only 48% against 38%.
That is, if to look narrowly, - the West and the South traded places.
Center.In August 2005-го the country independent - the fact 56% of inhabitants of the region against 34% believed, balance positive. Last year, we will remind, the last in Victor Andreevich's cadence - already only 29% against 55%, and with negative balance. So remained and in August 2010-го: confirm the valid independence of the country of only 39% of inhabitants of the Center against 48%.
East. In August-2005 here considered the country of really independent 41% of citizens against 44% assured of the return. Last year - only 21% against 69%. Now - 33% against 56%. That with the East don't do, and it in an emphasis doesn't see the valid independence.
All right. Well and how data? They passionlessly say that our relation to independence of the country though - Jure though - the fact, but it is subject to fluctuations and the differences which are strange coinciding with presidential election and change of imperious teams. And still - with our, so to speak, electoral sympathies. Victor Andreevich - lifting of moods in the West and in the Center, recession - in the south came. Victor Fedorovich - lifting in the south, recession in the West and in the Center came … The East, however, drops out of strict regularity as Victor Fedorovich's electoral field a little. Though, maybe, there about it something know, why not strongly to lifting are located …
And in general: among those who for this moment completely supports Victor Fedorovich's actions, consider the country really independent - 59%, among all the others - only 38%.
Yes. Probably, there is still a set of the reasons and circumstances of strange variability of ours the relation to independence of the country, especially independence - the fact. Probably. However the such is now looked through also: "our" president came - we for, not "ours" - here still it is necessary to think …
Same concerns also our relation to the Independence Day as to a holiday.
In August 2005-го this day considered as a big holiday of 22% of citizens, an official holiday - 40%, usual day off - 30%. And 5% believed, as day off this day couldn't be done.
In August 2009-го - a big holiday only 15% of citizens, official - 38%. And usual day off - already 37%, would like to see day working - 8%.
In August 2010-го in comparison with last year the situation as a whole didn't change, so, within an error.
As a whole. But not in some, regional details.
They are, however, a little noticeable by the Center and the East. In the Center festive moods especially high weren't:in August-2005 Independence Day considered as a big holiday of only 23% of inhabitants of the region, and now and it is less than that - 17%. The East and here is passionless: as considered in August-2005 Independence Day as a big holiday of 11% of inhabitants, so to this day and consider.
But here West and South …
In the south of the country this year the Independence Day will celebrate: as a big holiday - 15% (against 7% last year), as official - 51% (against 35%). In August-2005 rush was slightly weaker. Then the Independence Day were going to note as a big holiday 13% of southerners, as official - 37%.
In the West - all on the contrary. This year to celebrate the Independence Day as a big holiday there will be only 29% of inhabitants of the region (against 37% last year and 45% in August 2005-го).
So, ours came - we celebrate?
About "ours"
In Ukraine the economic situation considerably improves and popularity of the guide of Yanukovych grows.
From mass media, August, 2010
About "ours" - imperious teams, that is, it is interesting to speak, comparing some figures. Moment successful: as it was already noted, 2010-й it is similar on 2005-й. In either case - by the time of a holiday the country already half a year was led by new presidents and, respectively, the governments headed by new prime ministers, it were issued advance payments and on them citizens start asking slightly, estimating, in particular, correctness of succession of events.
For a correctness of advance payments we will choose the same month - April. Also we will compare support of actions of institutes of the power and persons, them heading, in April and August, 2005 and, respectively, in April and August 2010-го.
So, about correctness of the course laid in due time by orange team of Victor Andreevich, and now - it is white - blue Victor Fedorovich.
In April-2005 majority (54%) citizens were sure that events in the country develop in the correct direction - and only 23% approved the return. Doubting as it was already spoken, we don't mention.
In August-2005 number confident in correctness of a course was sharply reduced - to a third (32%), and 43% of citizens tried to report to the new power that with a course something not that. Negative balance - 11%.It, is remembered, reacted soon after at all not so …
In April-2010 advance payments are white - to blue team were given out more modestly, but nevertheless the relative majority (42%) citizens its course believed the correct, 37% - No, however balance of advantage of the first.
In August-2010 direction of succession of events is considered by the correct only 26% of citizens of the country, wrong - exactly a half. Negative balance - 24%. "However it is necessary to do something", - it was written to "ZN" in August, 2005 in relation to just the same situation of the orange power …
By the way, about advance payments. Be not too lazy, look at the table with answers of citizens to a question"How you consider how, in comparison with 1991, the situation in the following spheres changed? ". Especially touches situation improvement with democracy level in the country, but about it another time.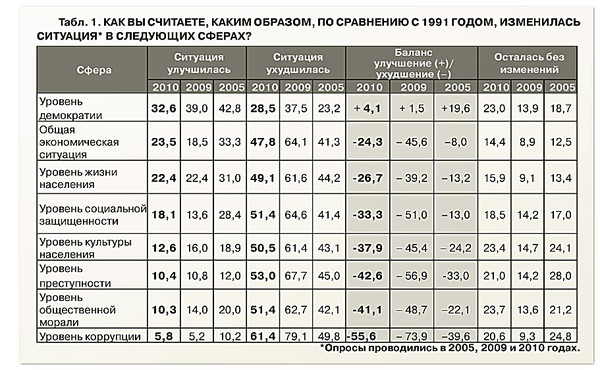 Now - about support of actions of new presidents.
In April 2005-го completely supported Victor Andreevich's actions nearly a half (47%) citizens of the country plus support of separate actions - 27%, total - 74%. You represent, what it was possible to make even for half a year, having such support of the society, the become silent parliament and frightened those to whom prisons were promised? Yes. Instead of supported actions of the president only 21%.
In August 2005-го the number unconditionally supporting the president was reduced to 30%, supporters went to a camp supporting "separate actions" - and the camp increased to 38%. The number not supporting increased - to 26% a little. As showed time, a tendency it was steady and I led Victor Andreevich to 5,45% of voices on elections-2010, and Victor Fedorovich - to treasured 48,95%.
Advance payments to Victor Fedorovich are issued slightly more small, but given out.
In April 2010-го its actions as president of the country completely supported 41% of citizens, another 25% - supported separate actions; didn't support - 29%. However support totally - 66%, too are possible, leaning on two thirds of society, absolutely the parliament and absolutely the oligarchs, to make much for life improvement already today. But.
In August 2010-го the number of unconditional supporters of actions of the president was reduced to 23% supporting separate actions - increased to 39% which aren't supporting - to 33%. Reminds nothing?
The relation of citizens to actions of parliament and the government shows the same tendency - decrease in their full support: parliament - from 17% in April-2010 to 11% in August;the governments - with 27 to 14%. But if total support of actions of parliament still sticks (both in April, and in August - to 50%), the government lost in total support (in April - 61%, in August - 55%) and got among not supporting (with 29 to 38%).
Sootvetstvenna of loss/acquisition the prime minister - the minister. In April-2010 full support of actions of Nikolay Yanovich 27% of citizens, in August - only expressed 17%. But the number not supporting action of the prime minister increased from 33% to 45%.
So already was. In 2005 full support of actions of parliament decreased from 22% in April to 12% in August; the governments of lady Yu - with 36 to 22%. And then …
- not Litvin personally to speak about the eternal speaker of not really hunting, but his position obliges. April, 2005 he met with full support 35% of citizens of the country, August of the same year - with 21%. April, 2010 - 27%, August - 10%. And almost record for all the time of its several stay on a post of the speaker number of not supporting - 51%. To tell offhand why so - it is difficult. But much liked its performance on one of current - show where the speaker and the head of People's party explained why it deservedly uses a heap of privileges and still - a 50-percentage discount for payment of utilities. So after all I don't live in the apartment, the speaker told, I live in the country …
Some words about now "not ours". On level of full support Yulia Vladimirovna took the fourth position (11%) in a personal rating of politicians after "ours" V. Yanukovych, S. Tigipko and N. Azarov. Victor Andreevich from 3% of support bypassed nominal already Kiev mayor Chernovetsky (1%) and took 19-ю a position from 20 politicians brought in the list …
… And the personal rating of the politician (instead of the president) Victor Fedorovich still while is high: total support of its actions makes 58% against 37% of those who doesn't want to support him.
But here that is interesting. There is in team of people at which total support of actions is so high (60%), and a balance of support / not supports it is better because don't support its action only 32%. Call him Sergey Leonidovich Tigipko. In elections-2004 - some time the head of a staff of Victor Fedorovich, in elections-2010 - the independent candidate, to the finish the comer the third. Question, of course, that specifically citizens support as special Sergey Leonidovich didn't make anything, except different statements and it isn't known what version of the Tax code, but it is other problem.
And now the problem can be other - as at all who had before a rating not that that above, than at the first person …
Yes, so if to extrapolate a situation of 2005, for fun, slightly forward, it is possible to expect two things. The first - on August 24. The president will make the speech and among other things will tell that at him team unique and best in the world, solid, professional and efficient, as the new and valid capital town governor who has told: "We will have a rest on pension". The second - a bit later, where - that in the fall. The president will make the speech and will tell that the government anywhere doesn't conduct its course, and appoints the prime minister, for example, Sergey Leonidovich or Andrey Petrovich or Boris Viktorovich …
About the guarantor personally
I would like to emphasize once again - I extremely value support and opinion of the voters.
It is sure: when results of that course which we conduct in a complex will be shown, such voters becomes more.
V. Yanukovych, on June 3, 2010
The president is worthy special conversation - and therefore that a position and therefore that is written above. Some doubts are raised, however, by care of support and opinion "the voters" whom, as we know, was about a third of adult population of the country if to count …
In April 2010-го nearly a half (47%) citizens of the country were sure that Victor Fedorovich's actions are directed on protection of national interests. Suspected it of protection of interests own and own political environment - 34%. The others, clearly, thought of a question.
By August the picture specularly exchanged. Now still think that Victor Fedorovich is continued baked about those national interests, only a third of citizens of the country - 33%, and 48% - indecently point a finger at interests personal together with an environment.
And regionalno reorientation of public opinion not especially will be pleasant to Victor Fedorovich if he it is valid of support and opinion of the voters so cares. Here even the passionless East showed some feelings. In April of 67% of inhabitants of the region thought that their fellow countryman protects national interests, considered differently - 19%. In August to national interests pointed already only 44%, and for the personal - 39%. The same and with the South.In April 70% well thought of "hope of the Crimea", it isn't especially good - only 16%; in August at good opinion there were 57%, and badly estimated - already 26%.
… Not otherwise, birthday made impression together with the epic movie "President". Especially those shots where the president with the press on a forehead of care of the country thoughtfully walks on estate avenues. Around centenary oaks, and Victor Fedorovich himself is strong … Mezhigorye, probably. In the cities of such oaks long ago didn't see ….
Or nevertheless with a course that not so?
It is a little about a course
We don't use Russia in any narrow political goals, and we develop with it such strategic partnership which result there is a modern economic complex, the biggest in the world growth territory, capable to surprise this world, and to Ukrainians - to provide high vital standards.
V. Yanukovych, on June 3, 2010
It is known that on April 21 Victor Fedorovich signed the agreements which are widely known in the people under the name Kharkov or with Dmitry Anatolyevich gas - fleet" is even simpler ". Already then "this world" was surprised. It was necessary to provide to Ukrainians high vital standards. And first mentioned Ukrainians also counted on it, in any case that gas prices won't raise, as well as Victor Fedorovich …
promised
In April from among the citizens informed on the contents of agreements, the majority (59%) sincerely believed that these agreements will bring to Ukraine more benefit, than harm, thought on the contrary - 24%. In August thinking of advantage became less - 47%, and thinking on the contrary - it is more (33%). Got, probably, at increase … And it without payment orders.
Extension of term of stay of the Black Sea fleet of the Russian Federation in the territory of Ukraine in April was supported by 54% of citizens of the country, didn't support - 33%. In August support 44% stated already only, negative attitude - 37%.
In August on a direct question, whether it was worth signing agreements if gas prices for the population are raised and will raise, 45% of respondents answered "no", and continue to defend Victor Fedorovich's correctness - less than a third (30%).
Thus 48% of respondents agreed with the thesis that the country leaders consciously misled citizens when assured that signing of agreements will help not to raise the prices.And only 36% are sure that the marked management of the price didn't plan to raise sincerely, but was compelled to make it under pressure of "external circumstances", poor. Who could think that interests of - on Firtash for the country leaders so "external" …
As for future high vital standards for Ukrainians, Ukrainians aren't sure that the strategic partnership will promote it.
So, in the proposal of the strategic partner to unite gas and nuclear sectors of both countries, see his desire "to help Ukraine for good-neighbourhood reasons" only 15-16% of citizens. And more than 70% - see various, but very mercantile reasons.
In that decisions in case of creation of nuclear holding with the strategic partner will be made by mainly Ukrainian party, 7% that the Russian - 43% are sure only. And only 35% of respondents are sure that Ukraine in general will be able to keep control over assets of the enterprises if they are included into the marked holding …
What there it was spoken about high vital standards which will be brought to us by a wind with North - the East?
And the last. Yes, before a holiday it would be possible not to speak about the sad. But this information keeps within a course …
It about what we still don't know, fortunately, on own skin, - about terrorism. It would be desirable that it wasn't known by anybody, anywhere and never, but...
Citizens asked, whether exists, in their opinion, probability of actions of the Caucasian terrorists in the territory of Ukraine in connection with stay in it Black Sea fleet? Suddenly there is Sevastopol few times a cruiser "Moscow" on protection of the Russian citizens or fellow citizens, either compatriots, or simply Russian-speaking, "The Russian world" is great …
In April assured "no" told 16% of citizens, in August - 11%.
Assumed that it "is improbable" 35 and 37% respectively; "with some probability" - 26 and 31%; with "high probability" - 6 and 8%.
It is possible to make comments on it somehow. One can be told precisely: this question for public opinion is rather sensitive. Especially as Ukrainians began to treat much more soberly and the advertized neutrality together with foreign military base staying in our territory. The relative majority (46%) respondents consider that Ukraine hardly will manage to remain neutral in a situation when in the Crimea - the Black Sea fleet, and Russia will enter the conflict to other state.However, optimists too suffice: 38% hope that the unenviable fate will bypass us …
Perhaps costed nevertheless to Victor Fedorovich sensitivity of a question for us too to consider, and not just that "the question of stay of the Russian fleet in Sevastopol owing to known historical and other causes is rather sensitive for our Russian partners and for public opinion of Russia". With all respect for Russia. But after all there will be such independent country - Ukraine.
And, perhaps, her citizens will learn not to celebrate arrival of "ours" and leaving "not ours", not to rejoice when the opinion of one part us is used to justify power actions. Perhaps, we will learn to demand together that our opinion sensitive and not really, opinion of everything, instead of one part against another, any imperious team considered always and everywhere.
Perhaps, we will learn and to choose this most imperious team not by the principle "ours" and "not ours". Perhaps …
Survey is conducted on August 10-15, 2010. 2009 respondents are interrogated is more senior than 18 years in all regions of Ukraine. Theoretical error of selection - 2,3%.
At a statement of results the following regional division of the country is used: The East - the Dnepropetrovsk, Donetsk, Zaporozhye, Lugansk, Kharkov areas; The West - Volynsk, Zakarpatye, Ivano - Frankovsky, Lvov, Rivnensky, Ternopol, Chernovitsky areas; The Center - Kiev, Vinnytsia, Zhitomir, Kiev, Kirovograd, Poltava, Sumy, Hmelnitsky, Cherkassk, Chernigov areas; The South - ARE the Crimea, the Nikolaev, Odessa, Kherson areas.
Full statement of results of research see on a site www.razumkov.org.ua
For comparison data of other researches of the Center, in particular - carried out in April and August, 2005 and in April, 2010 are used. All researches are conducted on the selection representing adult population of Ukraine on main socially - to demographic indicators: to age, sex, region of residence, settlement type.