Recently in Nikolaev many conversations go round the social Party of Regions project on installation of playgrounds. The project "Children of the favourite city", according to in the regional organization of Party of Regions, is initiated by the deputy head of the regional organization of Party of Regions Igor Dyatlov. This project in the city of shipbuilders treat on - to a miscellaneous - one support him, others - see in it attempt it will be pleasant to voters before upcoming elections. It seems that despite everything, regionals intend to continue implementation of this social project.
As reports a press - the secretary to management of PR fraction in a regional council, construction works in 12 playgrounds promised installation sites approach to end. In the message the press - services, also is noted that from citizens the huge number of letters with requests for installation of platforms arrives.
And one more joyful message arrived from a press - the secretaryhead of fraction of Party of Regionsin a regional council. It appears, in the project "Children of the favourite city" became interested not only inhabitants of Nikolaev, but also some deputies. The example the head of PR fraction in Nikolaevsk I.Dyatlov's regional council already was followed also by his member of the same party from city council - Sergey Zhayvoronok who established a playground in the Factory area on Obraztsov St., 1.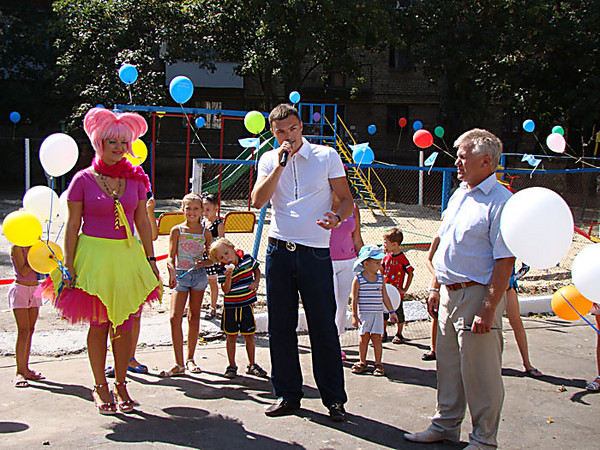 From edition:Really, this fact about which the press is told in the message - Party services регинов disproves an existing stereotype that only the bad example is infectious. It would be desirable to trust in it …
As we see, sometimes deputies if want, are capable to follow and to the good examples.And, if each deputy irrespective of what interests of political force he represents, let even following the political ambitions, will make a good deed for all city or for separately taken inhabitant, and others will look at it and too to somebody will help, it is good. And if to each politician to remember that he is the people's deputy and can make for these people something, "kick" is necessary, well, more was similar "kicks" …
We will be