"Improvement" of the law on local elections - the most, perhaps, grandiose and successful political swindle of PR lately. Having turned it, regionals legislatively fixed (!) already painted and approved - in half with BL and KPU - the scenario of local elections. The scenario detailed (up to the one who how many in what area will receive) under the leadership of Klyuev more than a month ago. And consecrated as koalitsioner in a whisper go on, "the Leader".
To existence of certain arrangements between PR, BL and KPU, recently, pointed a set of factors. Especially indicative - the rhetorician Vladimir Litvin. Whether it at first criticized draconian short stories of the law (between the first and the second readings)? Whether he insisted on emergence of norm "to a name there are 365 days" (in Tigipko's peak with Yatsenyuk)? Whether the speaker tightened document signing until the last minute? Whether it soon - all of a sudden - began to extol to the politician Bankovoy as a whole and contents of the law in particular? Whether it supported the last initiative of the guarantor - about "a new formula of the Constitution" - as soon as Yanukovych managed to sound it? As if not Litvin at all declared: in case of political reform cancellation, the following parliamentary (!) elections have to take place in the spring.
All this doesn't seem strange?
Lb.ua seems.
And cunning poddakivaniye to Litvin Simonenko and Martynyuk - tozheposy, we aimed to find out event details in a coalition triangle.
To think for three
Here it is important to note some basic moments:
a)the fact of coordination of PR, BL and KPU of certain "rules of the game" didn't raise doubts. Otherwise, the same Litvin with Martynyuk the first would insist: "to shoot, so to shoot", that is "to change, so to change". That is, not two norms - on anything significantly not influencing - are much more than short stories really basic.
- Somehow:"party binding" mayors (which, by the way, opposed Kolesnikov with Efremov - not the last people in the Ave. And Efremov acted in writing - having prepared alternative offers for the second reading).
- Somehow: impossibility to observe - in the conditions of the mixed system - representation in councils of all territorial bulks (differently it should increase without that the considerable number of regional, city, regional councils in the majority of regions).
- Somehow: the appeal of actions of the commission not in court - in the Central Election Commission that long, difficult also is almost unpromising.
In - the first, the Central Election Commission itself is created by parliamentary forces (a model of the past convocation) by the quote principle.
In - the second, on that members of the Central Election Commission in a disputable situation to penetrate, understand, time is required. In this case, time - not money, and terms. Electoral process - continuous terms. And if to break one, others will inevitably break, having broken, thereby, campaign as a whole.
Justification? Please. Litvin's flat refusal to be engaged in the Kiev regional councils to 31-го October. Why? Yes, because the capital too is divided, money under it is raised and people are appointed! And it, Vladimir Mikhaylovich, interest in refusal of regional councils isn't put.
b)silent grumble of "Strong Ukraine", "The front of changes", SPU, proves: in the coalition "thought for three", not too being interested in opinion of satellites;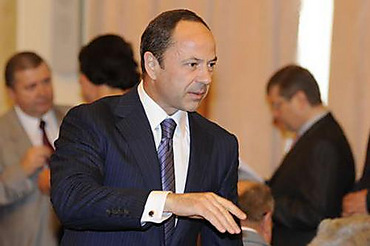 Photo: Max Levin
c)remembering old truth that there is nothing secret that wouldn't become obvious, any "written" traces of arrangements didn't remain.
That they were reached under Andrey Klyuev's direct coaching (heads of a staff of PR on autumn elections) is authentically known only, with Dmitry Shentsev's some (not too considerable) participation (the deputy head of party on ideology) and were "consecrated" by "the Leader". Consecration happened about a month ago, most likely - on the Crimean giving the Leader. Specifically - during the period between 20 - m and 31 - m of July.
Cheerful arithmetics
Only not "the word of the Leader" protection from mutual "kidka", no. Guarantee - the mechanism of formation of election commissions. On what, actually, everything is under construction.
It is known that after updating of the document, all had an opportunity to delegate representatives in the commission - not only parliamentary - parties.
In total in the country of parties over one and a half hundred. In parliament - 16 (in BYuT - three, in BL - two, in WELL - NANOSECOND - 9, KPU and PR plus). The limit number of the commission - 18 souls.
From them "not from BP" - three. Now present: though a half from полуторасотни political forces would will give the activists. "Lucky" between them will determine by a lot. Whether these will be able "lot victims" in the commission to affect something? That - the same. And it is necessary to bribe nobody.
These are the florets obvious to all. Now - about the berries remaining, why - that unnoticed.
In the law it is a question of parliamentary parties (!), not fractions. In WELL - NANOSECOND as it is told, nine subjects. Each of which - has the right to give in the commission of people.
Theoretically, a personnel of "the" representatives, and - in each (!) area (not only in areas and the large cities) to them it would be necessary to coordinate between itself in advance. If it is succeeded to coordinate still efforts with BYuT ("Batkivshchyna", PRP and USDP) - no lot is terrible.
Practically it, of course, is impossible.
In - the first because to collect at fraction meeting quorum WELL - NANOSECOND it is chronically incapable.
In - the second because - as democrats speak are in BP they it seems as partners, and on local elections - competitors.
In - the third because the central staff of "Batkivshchyna" influences at all all cells of the same name on places. Many, very many these cells, have today no relation to Tymoshenko. Absolutely any (except, unless, external similarity). The cause is not only the bad power which is carrying out on BYuT raider swoops (as in Kiev and Lviv. Quite successful, by the way); also Tymoshenko. In stay by the prime minister, purity of party ranks she not too cared; having become the oppositionist - not without pleasure I spent month (on the eve of race! ) summer on holiday.
Just like the Russian Federation
In AP it wonderfully understand. As well as that neither at PR, nor at KPU, at BL with selection of shots in the commission of problems won't arise. Actually, it is one of the main conditions of the arrangement of koalitsiant.
Elections, thus, are reduced to a sotsavleniye of the "necessary" protocol. The only functionality of members of the commissions - to write the correct protocol. Which will be approved then in Klyuev's office.
In simple terms:members of the pro-imperious coalition arrange in advance about result of campaign which suits their three; adopt "under it" the relevant law; in parallel - select in the commission of those who will provide them required result. It is played as if on notes - it is simple, as all ingenious. Them is the majority, and no observers - oppositionists will prevent them. Courts - legislatively (!) discharged of electoral process - even less so. Satellites - tigipkovets - yatsenyukovets - socialists - especially. These if start being indignant, and crumbs from a lordly table won't receive.
It is necessary to tell: the scenario of campaign isn't new. It is written off with the Russian Federation. Regionals in general try to follow the Russian tracing-paper practically in everything: from the list of national projects (compare our national projects with similar, laid out on official Russian sites) to an election system.
So, in the last parlamentky race "Just Russia" counted - in one only Saratov region - to collect 15%. And I counted quite reasonably. For an hour (!) before opening of sites the order came from Moscow: your result - 7.39%; documents are already ready. How many, you think, "Just Russia" in the Saratov region officially received? Correctly, 7.39%! That is - an electoral threshold and ма - and - and - an alenky bonus.
"Secret installation: all mayors have to be from PR"
However, any - even the most ideal - a design, always has errors. In other words: risks.
The firstand main - candidates of mayors. Here fights go not on life - to death. "Regionals are very hard-fisted, - one of leaders of parties - satellites, - Even shared with Lb.ua where their applicant is frankly weak, "others" don't let. Secret installation: all mayors have to be from the Ave. But, same it is dishonest! ".
So, inUzhgorodit is white - blue we are ready to support even odious Ratushnyak, neither time and nor two worn their last words if only not to concede to socialists (only don't laugh! ) reckoning on the city.
The situation inis amusingTo Odessa, where wishing мэрствовать - the whole group. And all - is white - blue. Preliminary "good" the Leader already gave Kostuseva - to the senior, having asked only "to deal with the son" (Alexey Goncharenko - the owner of rather serious rating). Kostusev can't understand as with the son doesn't communicate. But Gurvits with Goncharenko very much even communicate also to them to two, gossip in PR, it was succeeded "to solve everything amicably".As a result of Goncharenko I reduced activity, and Gurvits started lobbying actively Levochkin with Firtash. And that unequal fight was won by Kostusev (according to preliminary data, based on conclusions of the central staff, made after protection of a genstrategiya of campaign by a staff Odessa) - Klyuev's next washer in Levochkin's gate.
By the way, place "cost" on PR quota in the Odessa City Council - 300 thousand c.u.; in the regional - 250. Why the city is more expensive than area (where ports too are available), not absolutely clearly.
InKievorder of the prices the same: regional council from PR - 300 thousand c.u.
On some areas (where PR feels especially surely) protocols are already written. The first them wrote (partially even to the center transferred) inKharkov. Chiefs of staffs of other large cities silently envy and too intend "to give a five-years period in four years"! To try, at least.
So leave this your intellectual: ah, competition! ah, surprising electoral technologies! ; ah, consciousness of citizens! Late to drink "Borjomi". The most important - everything is lawful. The mosquito of a nose won't undermine. Sad experience of the transit server did Andrey Klyuev good. Experience of burning in border Belarusian airfield of "cookies" - the counterfeit bulletins printed it is absolutely wretched, Tolstoukhov remembers still (hello Kiev райсовтеам! ).
Risknumber two- non-compliance with the established proportions. We explain on the example of Litvin. "The union of three" provides "to give" to Vladimir Mikhaylovich in each council so many places, how many it has now, plus of 30%. That is, if in council of Golopupensk at Litvin 10 people, after 31-го have to become October 14 (if behaves badly-13).
On new territories to "populists" the way is ordered. There Klyuev and To will start SPU. In quantities very limited, certainly. Though socialists dream about 2.5% - "that was what to show at negotiations before parliamentary". PR of their dream aren't too interesting: "You know how divide territories? The governor - the regional of the representative from BL and from KPU causes to himself. They sit down three together and paint: that, to whom, in what area. And us don't call! ", - the stately socialist indignantly shared, having cited as an exampleZhitomir.
The remains in "free territories" will divide between Tigipko and Yatsenyuk in a proportion 3 to 1: on three mandates "Strong Ukraine" - one for "The front of changes". Phrase salt (become already, not without participation of Lb.ua winged) Klyueva:"Tigipko - our younger partner, and with Yatsenyuk at us the contract on criticism" that Tigipko, unlike Yatsenyuk, though any benefits is confident in receiving. Arseny Petrovich has no such confidence.
Risknumber three- non-performance by regionals of the taken obligations to share on two subparagraphs:
a)non-performance from - for internal contradictions in the Ave.
Head of a staff - Klyuev, the head of AP - Levochkin, it, whether you know, rattling mix. And "the Odessa example" - children's babble. Don't forget: Andrey Petrovich Sergey Vladimirovich is interested "to heat" also because at Klyuev many chances to replace - sooner or later - Azarova. Levochkin's similar chances the incomparably smaller. Though because he never could brag of the kind relations with representatives of "Akhmetov's group". Klyuev - can.
b)non-performance from - for sharp and serious deterioration of economic indicators. "When the only opportunity for PR will be to hold a situation "blanket pulling on itself", - interlocutors reason.
On a question of, whether will be satisfied, in that case, communists and litvinovets "otkupny" in the form of any pleasant positions in "keshevykh" departments - answer negatively, explaining: "here other order of figures".
Reaction of BL and KPU to a similar swagger - a major is predictable. The parliamentary presidium is called. Where - if the scheme won't work - 3-го November (in the first plenary - after elections - day) Litvin with Martynyuk will arrange "cheerful starts" by the principle "so don't get you to anybody".
Onlyif the swagger - the posh really occurs, all will cardinally exchange "the fight card". Up to reformatting of ruling coalition. In parliament - it is so exact. Reformatting not with the sign "plus", as now, with the sign "minus". Citizens deputies will be compelled will gain independence rather new circumstances. It is possible not to doubt: the speaker will promote that this self-determination appeared the most painful for the Ave. To get rid of the speaker as we told earlier, it is almost impossible. When in the back at it such vice-it is exact.
***
Thus, by the beginning of new "season" not party in power and not BYuT applying for leadership in opposition became the main political players.The main characters - satellites. Already today between them there are the winners (BL and KPU) won (Tigipko with Yatsenyuk) and those whom use "in dark" (all WELL - NANOSECOND). Their purposes, methods and benefits differ. But, they - their maneuvers (successful or not really) will define an outcome of race 31-го October; further alignment of forces in the authorities and even destiny To - reforms, thoroughly "regionals" decided to undertake which permission after campaign