Today is closer to nine o'clock in the evening on the Beijing time in the Olympic village the national colors of Ukraine are hoisted. Similar ceremonies are held on the eve of the Olympic starts and are actually main solemn event before the Olympic Games.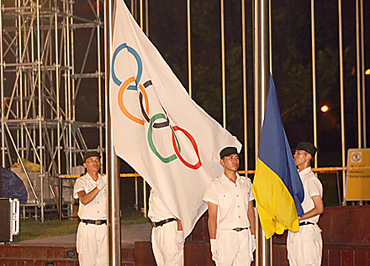 Together with athletes in celebrations participated the president of National Olympic Committee of Ukraine Sergey Bubka, vice-the prime minister Ivan Vasyunik, the minister of a family, youth and sports Yury Pavlenko, the Plenipotentiary ambassador of Ukraine in China Sergey Kamyshev.
Quite impressive there was the Nikolaev sports delegation. The chief of regional sport management Alexander Sadovsky, vice-the president of the Nikolaev regional office of NOC Vadim Prokopovich, honored trainers of Ukraine Vladimir Gorzhy and Tatyana Maryanko. The bronze prize-winner of the Olympic Games in Athens Sergey Beloushchenko, our titled oarsmen, divers, swimmers.
Together with Xing - the yellow panel on the Olympic flagstaff this evening lifted also national flags, Nepal, Latvia, Serbia, Angola. I will remind, all at the Olympic Games athletes will compete under flags of 204 countries. And before opening of Games-2008 remained less than days!