12 years later the destiny of the winner should be defined in after match penalties.
"Voronovka" - "Torpedo" (Nikolaev) - 2:2, 4:3 - on a penalty.
August 23. Nikolaev. Central city stadium. +36. 500 viewers.
Arbitrator D. Viglidav, assistants - Kuzmin Ave, I. Stavka. Delegate V. Naumenko. Goals: Winter (15), Protsyshin (58) - Belous (7), Galstyan (39). After match penalties hammered: Sprynchak, Myzenko, the Bull, Popelyshko - Zhorov, Hodorovsky, Alexandrov; didn't hammer: Krivoruchko, Sokolyuk - Sharabura, Kulbachuk, Paskhalov.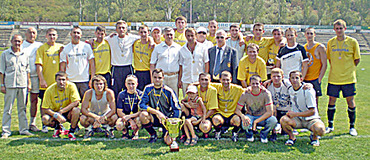 A year ago teams already played in the final, then voronovets for the first time in the history won an area cup. Considering a number of factors (first of all - participation of finalists in a Cup of Ukraine), departed from tradition of carrying out the final on the Independence Day and played on the eve of a holiday.
After the first time Torpedo members conducted with the score 2:1. During one of attacks Protsyshin, having shown feeling of a position, I managed to punch without processing - 2:2. Despite all diligence of teams, until the end of the main time the account didn't change. So drank waters football players, judges (everything it was unsweetened), and again - in fight! The moments occasionally arose, but nevertheless teams sought to play reliably in protection.
Draw after two-hour battle on a football field - and a penalty series in the southern gate. The reserve was made by Sprynchak, dashingly having shot "nine". And here opponents weren't lucky twice: Yakovlev was we don't punch. Then spells of the goalkeeper of "Torpedo" Shilov brought benefit, the situation was practically leveled. On five penalties punched teams - a draw 3:3. Further - to the first unscored. Kills Popelyshko, and to Paskhalov the destiny of the great players who have comprehended failure is prepared. "Voronovka" and her admirers exult, "Torpedo" longs. By the way, last time the owner of a cup was determined by a penalty in already far 1996 - by m when olshansky "Gidroliznik" overcame pervomayets.
Rewarding was carried out by the Nikolaev governor Alexey Garkusha and the chairman of regional federation of soccer Nikolay Eropunov. Medals and diplomas were gained by Torpedo members of the head coach Vladimir Kozenko. Similar set plus honourable trophy "A cup of the Nikolaev area on soccer" - the Voronovka team of the head coach Ruslan Zabransky. Prizes awarded also the best players - Sergey Bugay and Igor Shilov.
Owners of a cup of area-2008 steels:Yakovlev, Grigorash, Sokolyuk, Bull, Liashengko, Caique, Winter, Myzenko, Mulyar, Protsyshin, Krivoruchko, Sverdlov, Popelyshko, Terekhov, Sprynchak, Paw, Kulebakin, Marinich, Kokol, Petrunya, Omelchenko. The head coach - Ruslan Zabransky, the president of club - Igor Naumenko, the sports director - Anatoly Leonenko.
- Offensively lost, children are upset, - the president of FC "Torpedo" Evgeny Barvinsky told. - It is pleasant that our team gathers a form, on Wednesday it is necessary to us start in a cup of Ukraine.
And here the comment of the victor of day - the president of FC "Voronovka" Igor Naumenko:
- We knew how it will be difficult in game with the strong rival. Had also problems with structure. But "Voronovka" is distinguished by strong character! After a good first time in the second got a bit tired a little, and equivalent replacements as at Torpedo members, at us wasn't. Pulled out a victory on a penalty! The cup strongly received a voronovsky registration!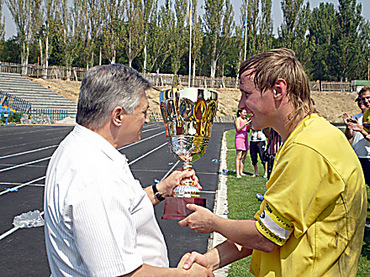 Cup of the Nikolaev area: owners and finalists
| | | | |
| --- | --- | --- | --- |
| Years | Owner | Finalist | Account |
| 1992 | Olympia Yuzhnoukrainsk | Kommunarovets Nikolaev | 3:0 |
| 1993 | EVIS (veterans) Nikolaev | Olympia Yuzhnoukrainsk | 3:2 |
| 1994 | Field Unintentional | Olympia Yuzhnoukr. | 1:0 |
| 1995 | Olympia Yuzhnoukrainsk | Field Unintentional | 4:3 of century |
| 1996 | Gidroliznik Olshanskoye | SK Pervomaisk | 0:0, 6:5 foams |
| 1997 | SK Pervomaisk | Stepovoye's ear | 2:0 |
| 1998 | SK Pervomaisk | VOZKO Voznesensk | 5:1, 2:1 |
| 1999 | Stepovoye's ear | SK Pervomaisk | 5:2, 1:1 |
| 2000 | Stepovoye's ear | SK Nikolaev-2 | 3:0, 1:0 |
| 2001 | Water-transport worker Nikolaev | Stepovoye's ear | 2:1 |
| 2002 | Water-transport worker Nikolaev | Stepovoye's ear | 3:2 of century |
| 2003 | Slaviya Bashtanka | Stepovoye's ear | 2:0 |
| 2004 | Stepovoye's ear | Slaviya Bashtanka | 2:1 |
| 2005 | Stepovoye's ear | Slaviya Bashtanka | 1:0 |
| 2006 | Stepovoye's ear | Builder Nikolaev | 1:0 of century |
| 2007 | Voronovka | Torpedonikolayev | 4:0 |
| 2008 | Voronovka | Torpedonikolayev | 2:2, 4:3 foams |