Soccer. Second league. IFC "Nikolaev" - "Veres" - 1:0
Before game
At the end of last season "Veres" merged with futzalny "Storm" in one collective. That will give such association will show only time. While good results from team, average which age of players doesn't exceed 20 years, nobody expects. On the eve of championship start the management set for it the modest task - to take a place in the first ten. As the president of club Svyatoslav Vlasyuk noted, rovnensky fans need to stock up with patience and to wait while football players will get stronger and will gather skill.
In the national championships of IFC "Nikolaev" and "Veres" four times at the level of the highest and first leagues met. Each of the parties won house matches with the score 1:0. One of two balls into gate of the rival was hammered by the present trainer of the Nikolaev team Vladimir Ponomarenko. From participants of the last games which have taken place in a season of 1996/1997, on - former in a system only one player - Alexander Lavrentsov.
Game
Attendance: On August 29, Central city stadium, +30, 570 viewers.
Arbitrators: A. Bilokur (Kurakhovo), A. Omelchenko (Slavyansk), T. Aseeva (Makeyevka), A. Yeremeyev (Nikolaev).
Delegate of FFU: V. Kurganov (Alexandria).
Preventions: Bulakh (9'), Okhrimenko (29'), Vasin (49'), Veliyev (60')
Goal: 1:0 - Wolves (43')
IFC "NIKOLAEV"
"VERES"
25
LAVRENTSOV
27
Kozibroda
3
Okhrimenko
17
Dmitruk
5
Vasin
18
Bug
6
Vasilyev (66')
5
Gergelyuk
15
Yaryukhin
23
Kotyuk (57')
8
Veliyev
7
Melnichuk
23
Curve (46')
26
Kinakh
16
Matyushov (46')
4
Ukrainian (75')
18
Marinenko (90')
20
Tivonchuk
22
Wolves (71')
10
Lyubar (69')
11
Bulls (82')
8
KOZLYUK (52')
Spare
Spare
1 2 10 9 19 14 21
Radio-gramophone Kirik (46') Migal (71') Irtyshchev (66') Sheremet (90') Pukhta (82') Eremenko (46')
38 25 24 22 21 12 6
Mozerov Belobrovsky (57') Vorotelyak Morozenko Tkachuk (69') Sergiychuk (52') Maidan (75')
The head coach - Vyacheslav MAZARATI
The head coach - Nikolay the EAGLE OWL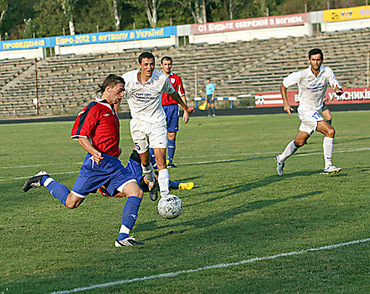 Klatsni on all photos
The match on a heat began at low speed. I made the first attempt to shoot at the goal on 5-й to minute of the Curve, but the ball fell down at it from a foot. Soon the IFC "Nikolaev" wasn't used by the first goal chance: in turmoil in the shooting area I reached a ball of the Curve, but for guests the rack played. Right there from advantageous position Yaryukhin didn't get to a frame. In reply the Ukrainian it is inexact I punched the head.
On 30-й to minute Vasilyev rushed into a penalty area of guests, beat the defender, but one more Beck of "Veres" who beat out a ball on the angular appeared in time. Then there was an exchange of the distant blows which aren't concealing threats to gate, and on 43-й to minute of IFC "Nikolaev" hammered. With curve it was overcome with the defender, the ball jumped aside to Volkov, and 19 - the summer football player of meters in six "shot" gate. 1:0!
In the second time fires arose in Kozibroda's possession more often. On 54-й to minute Veliyev's gun distant blow went to "milk". Right there Volkov who beat from ten meters could make a double, but "Veres's" goalkeeper rescued the team.And on 64-й to minute Volkov again could cause a stir. It and Bulakh escaped on appointment to Kozibroda, but Volkov of the partner didn't notice, and itself punched artlessly - in the goalkeeper.
On 74-й to minute Bulakh "untwisted" the defender at an angular tag and shot to the shooting area where young Eremenko didn't manage to process a ball. Soon the very tall Bug shot at Lavrentsov's goal the head dangerously, the ball whizzed at a crosspiece. The last more - less critical moment happened on 84-й to minute when skilled Marinenko didn't get to a goal mouth. In an ending of a duel it was noticeable that "Veres" got a bit tired, and final storm at guests didn't leave. The IFC "Nikolaev" was brought surely by a match to a victory. We will notice, the fourth in a row!
After game
Head coach of IFC "Nikolaev" Vyacheslav Mazarati:
- Today our team is yet ready to give to the audience pleasure and itself to have satisfaction from game. We play, first of all, on result. And the result is. In the first time actively on flanks Vasilyev and Marinenko, in many respects played therefore there were moments at Bulakh and Volkov. In the second time the strong desire to kill him prevented to score a goal …. Quality of transfers limped. Factor of strengthening of game? Work to the seventh sweat. We can't invite in a team of strong football players after all.
According to Vyacheslav Mazarati, you shouldn't judge IFC force "Nikolaev" on matches with middling persons. That the present Nikolaev team is, it becomes clear in duels with leaders.
Review of round
"Field" from Ternopol stumbled in Chernovtsy, and the FC "Korosten" won the second victory in a row. One of leaders Vinnytsia "Field" on the home field hardly beat the outsider - "The Carpathians-2". By the way, with львовянами, gathered in seven games three points, the IFC "Nikolaev" will play the following match.
Meanwhile, Vyacheslav Mazarati's team after the next victory came to the fifth place. It will be more difficult to make still at least one short step up - ahead of us only applicants for increase in a class.
The basic halfback Faramaz Veliyev who was remembered by reliability and high percent of the won single combats became the best player of a match with "Veres" according to the version "Nikolaev news".
7-й round. On August 29 (Friday)
Podolia - Reigning-2 - 0:1
Bukovina - T field. - 3:1
Оболонь-2 - CSKA - 0:2
FC of Korosten - Bastion - 3:2
I grew - Nafky - 0:1
V.'s field - Carpathians-2 - 2:1
On August 30 (Saturday)
Unity - Dnepr
Arsenal - Desna-2
| | | | | | | | |
| --- | --- | --- | --- | --- | --- | --- | --- |
| | Group A | And | In | N | П | M | About |
| 1 | V.'S FIELD | 7 | 6 | 1 | 0 | 11-2 | 19 |
| 2 | DNEPR | 6 | 5 | 1 | 0 | 10-3 | 16 |
| 3 | ARSENAL | 6 | 5 | 1 | 0 | 10-5 | 16 |
| 4 | CSKA | 7 | 4 | 2 | 1 | 12-3 | 14 |
| 5 | IFC NIKOLAEV | 7 | 4 | 2 | 1 | 6-3 | 14 |
| 6 | BUKOVINA | 7 | 4 | 1 | 2 | 11-9 | 13 |
| 7 | T FIELD. | 7 | 3 | 3 | 1 | 9-5 | 12 |
| 8 | VERES | 7 | 3 | 1 | 3 | 7-4 | 10 |
| 9 | FC KOROSTEN | 7 | 2 | 2 | 3 | 6-10 | 8 |
| 10 | NAFK | 6 | 2 | 1 | 3 | 6-8 | 7 |
| 11 | BASTION | 7 | 2 | 1 | 4 | 10-14 | 7 |
| 12 | REIGNING-2 | 7 | 2 | 1 | 4 | 4-8 | 7 |
| 13 | PODOLIA | 7 | 2 | 0 | 5 | 6-10 | 6 |
| 14 | ROS | 6 | 1 | 1 | 4 | 6-8 | 4 |
| 15 | GUM-2 | 6 | 1 | 1 | 4 | 3-8 | 4 |
| 16 | OBOLON - 2 | 7 | 1 | 1 | 5 | 3-13 | 4 |
| 17 | UNITY | 4 | 1 | 0 | 3 | 5-6 | 3 |
| 18 | CARPATHIANS-2 | 7 | 1 | 0 | 6 | 6-12 | 3 |
8-й round. On September 5 (Friday)
Dnepr - Arsenal
CSKA - Unity
T field - Оболонь-2
Podolia - Bukovina
Veres - Ros
Carpathians-2 - IFC Nikolaev
Bastion - the Field In
Gum-2 - FC of Korosten
Reigning-2 - Nafky