One of heads of the Nikolaev regional organization of Party of Regions Igor Dyatlov offered political forces and public organizations to add with the practices the book "Chronicle of Our Memory" which will be published by Party of Regions. About it reported in a press - service of the regional organization of party.
Under the terms of competition, pupils of all schools of area collected memoirs of participants of operations and stated them in any form. The organizing committee chose from more than 1200 works 32 which authors were awarded during celebrations on May 9 on a central square of the city.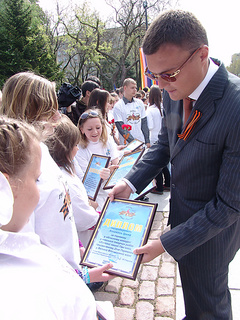 The head of the Nikolaev regional council Igor Dyatlov urged political forces to join this project. "Regional" noted that when the Party of Regions only began the project, the initiative was supported by many public organizations, political parties, and too started collecting memoirs of veterans. He suggested activists to add also the practices in archive of the organizing committee "Chronicle of Our Memory" to bring and them in the book.
"It is pleasant that the initiative of Party of Regions was supported also by other political forces. I am sure that the materials collected by them too the powerful. I would like to offer that these participants transferred the works to our organizing committee to publish them together with works of school students in the book "Chronicle of Our Memory". It is sure that this book which we will publish by the Independence Day of Ukraine, has to be at least in each library of area", - Igor Dyatlov summed up.