Now plant which we knew how JSC Damen Shipyards Okean, will be called differently - as JSC Wadan Yards Okean OJSC as the owner at it now another. And it, this owner, showed to factory workers today, on October 9. Despite not really good acoustics in one of shops where there was an acquaintance of the owner to employees of plant (practically anything it was impossible to catch from - for a booming echo) while one is good: the new owner in the person of the chairman of the board of directors of Wadan Yards AS group of companies Andrey Burlakov (he is the main co-owner of Wadan Yards AS) talks in language clear to nikolayevets - Russian.
Whether it will "be good" further, depends not only on the owner, but also on "okeanovets".
In brief we will remind that Wadan Yards AS - recently created ship-building group of companies, 70 which % belongs the Russian company FLC West and 30% of the Aker Yards company, is based on the agreement between these two companies, signed at the end of March of this year, and final end of the transaction took place on July 29 this year (an amount of transaction - 292 million euros).
As a result of the transaction of Wadan Yards AS three shipyards - two in Germany (Wismar and Rostock - Varnemyunde) and one in Ukraine (the Nikolaev plant "Okean"), and also 4 PKB (called now design - bureau) departed. We will add that the staff - the apartment of group is in Oslo, and heads board of directors Andrey Burlakov already called earlier.
Addressing to factory workers, Anlrey Burlakov asked those not to worry:
"We will do everything that you lived with us better, than lived to us".
Among other things, Wadan Yards AS offered Nikolay Romanchuk, well familiar to factory workers, to head the Wadan Yards Okean OJSC enterprise.
And in communication with journalists I deciphered some messages.
Judging by A. Burlakov's words, the transaction with Aker Yards was difficult - to put it mildly, Norway received slightly more means, than actually cost the acquired goods.
As A. Burlakov, "unfortunately told, we faced the hidden problems (a financial component, a production component and orders) about what we will tell after legal confirmations, but the sum is huge - that which will be exposed as our claims (to the assignee of Aker Yards - an editor's note), and this sum all is proved".
Answering a question of plans concerning JSC Wadan Yards Okean OJSC, Andrey Burlakov told that "the plan very simple - the most dense work on loading by its orders".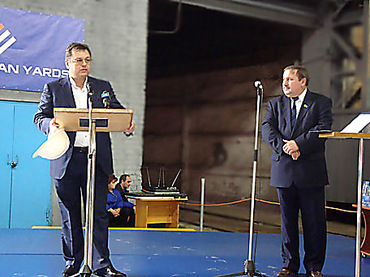 And though the portfolio of orders isn't created yet (the owner only was replaced and at "Ocean" is over what to work - until the end of 2009 it will finish orders under contracts with Aker Yards), but as A. Burlakov assured, "it will be created soon - the main efforts now on it and are directed".
The main owner noted not really comfortable working conditions (world crisis which didn't pass also Ukraine and snap elections in parliament it isn't really good, A. Burlakov noted), but he will try to receive the maximum benefit.
And for this purpose the plant will have to work.

That situation which now developed on "Ocean", - with the minimum volume of orders - us at all doesn't arrange. Me adjusted to come to a tribune and to tell that my main goal of stay on "Ocean" - to make plant happy. I won't hide is the truth. But it is a consequence. My main goal of purchase - to get profit. And here for this purpose I have to make a candy of this enterprise. To tell that we will make of "Ocean" Wismar it isn't absolutely true: the shipyard will well work, it will earn also, and her workers, will badly work - workers will badly earn. We are heavy passengers for the Ukrainian shipyard: mentally we anywhere didn't depart from you, but I rigid - if I should close shipyard, I will close it.
But it isn't favorable to me.
I want that there was a modern enterprise in Ukraine.
The best not because the others ugly look - easy to look good against the bad.
I would like that it looked good against the good.
The freebie won't be (in comparison with the German shipyards labor productivity here is very low, but a little big in comparison with the disorganized Russian shipyards), and investments will be.
Here the huge areas, and they will be used for designated purpose, - A. Burlakov told.
As the owner assured, "Ocean" won't be minor shipyard - it will have the task (same each bought Wadan Yards AS of shipyard will have "the task" and at design - bureau).
"Mad children who will draw the beautiful ships are necessary to us. Workers who will have incentive to build these ships soundly and qualitatively" are necessary to us, - A. Burlakov speaks.
Also I added that the Nikolaev shipbuilders will train on the German shipyards - to learn to work not that is knowledge of a profession, and that is rates and quality.
Except everything, owners of Wadan Yards AS on shipyard of Wismar and Varnemyund during the emergency periods of work intend to involve Nikolaev shipbuilders - they have to replace Poles who are involved today (anything personal concerning Poles Burlakov has no - it will be just like that more correct and more favorable).
If to finish a subject of workers, how A. Burlakov assured, workers from "Ocean" won't dismiss and if such decision is made, "it will become taking into account observance of social guarantees".
But performance of social guarantees probably only in that couple if the plant is loaded by orders.
And about this area of work journalists heard from the senior vice-the president of the company Victor Chugunov who knows about plant not on a naslyshka - many managers of plant knew, saw plant "in work".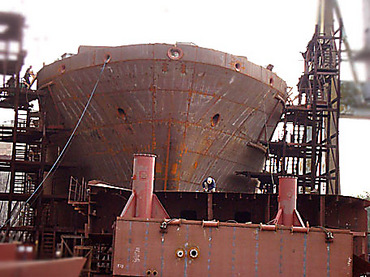 - The plant is capable and can build complete vessels.
Also will build complete vessels. At plant the best dock in Europe, and that it does today the "left unfinished" vessels, and the main profit is removed by the Norwegian partners represented by the Norwegian and Romanian shipyards, is absolutely abnormal phenomenon, and it can't suit us in any way.
Therefore negotiations on loading of big dock (after completion of works on the contracts Aker Yards) or bulk carriers, bulk ships or tankers with a deadweight from 60 tons and above are conducted already today.
Will load also the small line.
We have to in the next year - two to come at least to level of the Romanian plants Aker Yards, - V. Chugunov told.
The question and of was asked by journalists, whether the company and plant in particular will participate in implementation of the Russian orders.
Give I to you I will respond to purity: to me to spit on all these "difficulties".
I am not the politized companion, I am not the citizen of Ukraine, and all is equal to me who will be the President who will be the Prime minister - the minister.
I - for the one who will help this shipyard.
We know who will help.
I won't call this nice person, - A. Burlakov told.
And concerning what help is necessary, expressed вр.и.о. the president of JSC Wadan Yards Okean OJSC Nikolay Romanchuk - the Law on SEZ, the Law on the shipbuilding support, which projects are in Cabinet of Ministers.
According to him, a problem of management of plant - "to return former power, to show how we can". N. Romanchuk didn't hide that the enterprise is in very difficult situation (it journalists who representations in an ozhidiniya of the new owner walked on the territory - a little bit empty a little, though not could feel as on "ChSZ" or plant of 61 Communards) - in comparison with 2005 the amount of working main specialties was reduced by 1200 people (in 2005 - 2,5 thousand were m, and now - 1,3 thousand).
Nikolay Romanchuk worried during representation to factory workers of the new owner a little, but was felt that it is pleasant to it.
We received today such investor with whom it is convenient to communicate. If at communication with "Damen", "Aker" we constantly had an intermediary, today we have that investor who communicates with us directly.
It doesn't run away, it doesn't leave, he gives the chance to work and earn.
And I told it to the people, - N. Romanchuk told.
What to "Ocean" will be worked with the new owner, Nikolaev and nikolayevets still will see.
But it will be already another story altogether.