Within celebration 100 - the anniversaries of the Nikolaev soccer decided to try on October 19 in the field forces deputies Nikolaev and Kherson city councils. Not on a big field of the Central city stadium, and on the soccer field opened yesterday - it the sizes is less, and deputies nevertheless not professional football players - can't long run.
But game turned out - it was unlike more cheerful and more hazardous, than many games of a national team on soccer, and even more interestingly, than consideration at session by our city council of the land questions when you know, who for what and behind whom stands.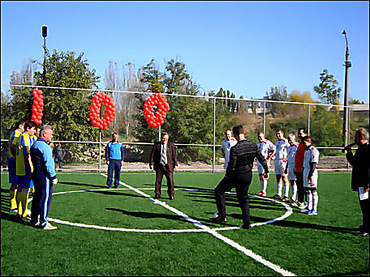 It is necessary to add that the mayor of Kherson Vladimir Saldo (by the way, the native of Nikolaev), and our football players - amator - 1-й the Deputy Nikolaev mayor Yury Granaturov, the secretary of the City Council Vladimir Korenyugin and the head of PR fraction Pyotr Zibrov (the commentator of a match - the announcer of the Central city stadium Nikolay Larionov - presented Pyotr Vasilyevich as "the president of club") addressed hersonets.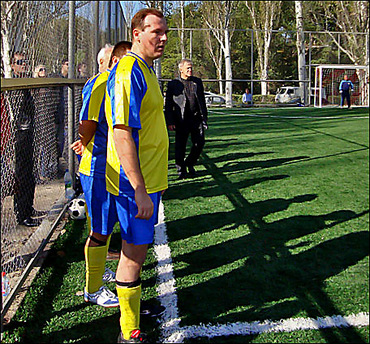 And now about heroes of the day. The Nikolaev team consisted of bigger number of football players (13 against 10, but it is clear, what not all of them at the same time were on a platform) is allowed the trainer Sergey Zhayvoronk (the deputy from PR fraction) to do frequent replacements of players, but it didn't allow nikolayevets to win. The first time which has come to the end with the score 4:3 in favor of team of the Nikolaev city council became the most productive. Sergey Vlasenko (ROM fraction) became the unconditional hero of the day from nikolayevets - it scored four goals, and more any hersonets or nikolayevets couldn't repeat his record. We will call the hersonets who have caused a stir in the first time: one goal on Oleg Akimchenkov's account, and two - Yury Klimentenko.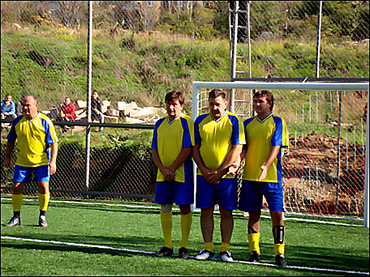 The second time for team of the Nikolaev City Council became unsuccessful (our deputies got a bit tired and hersonets "probed" them enough) though began with one more goal in our advantage - he was killed by Alexander Trifonov (KPU fraction).And here one more goal, which authorship belongs to nikolayevets to Igor Bolotov (fraction "Civil block "Nikolaev for V. Chaika"), "stole" good luck from nikolayevets - he was killed into our gate. Hersontsam it was necessary to score 2 more goals (it Andrey Dmitriyev and Sergey Haborsky), that made then it is simple not to allow to nikolayevets to break integrity of gate. They managed it, and it is a pity - the dangerous moments which could end with goals, was very much and much.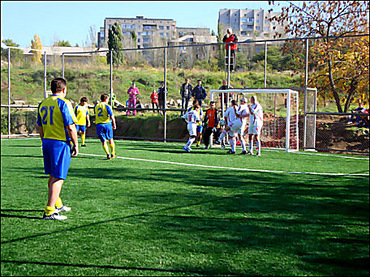 Meeting result - 5:6 in favor of hersonets.