Governor of the Nikolaev areaNikolay Kruglovignores the Law of Ukraine «About access to public information» , doesn't want to answer inconvenient questions and breaks on journalists. About it in the blog writes correspondentVladimir Logvinenko.
So, answering a query which contained a request to provide the inspection statement of a condition of a runway at the airport «Nikolaev» , made by the State aviaservice commission in November, 2012, the governor of the Nikolaev area answered with the formal formal reply and the link to a public source. On a repeated query the similar answer followed.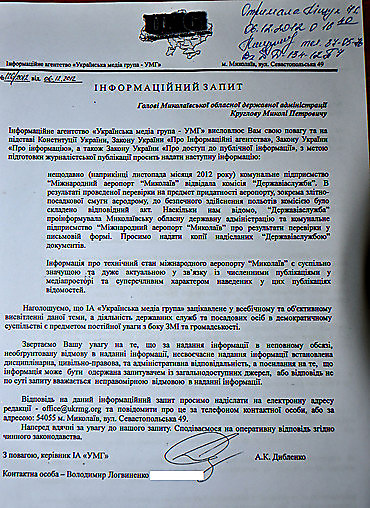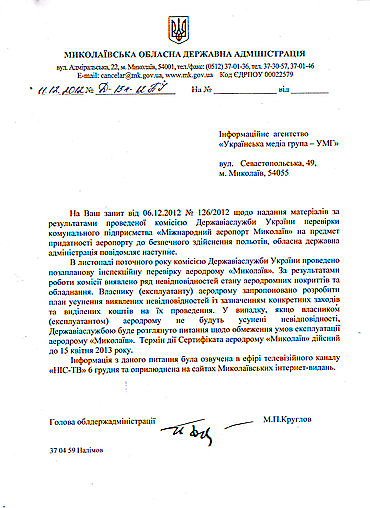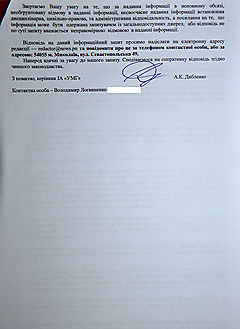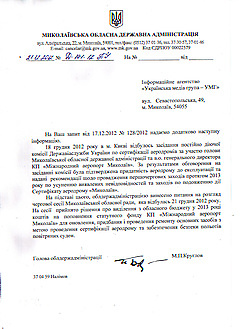 Second inquiry and answer to it

Attempt of the correspondent on December 26, during a briefing after solemnlyго openingI resuscitation unit of children's hospital to find out, why the governor of the Nikolaev areaNikolay Kruglovrefuses to answer queries in fact I ended with that the head of the regional state administration broke and refused to answer an inconvenient question.
We will note that in answers of the governor it is accurately traced violations of the law «About access to public information» , in particular item 2 of Art. 22 where it is told: the answer of the manager of information that information can be received from public sources, or the answer not in fact inquiry are considered as illegal refusal in providing information.
We will remind as it was reported earlier,Nikolay KruglovI declared that State aviaservice in се - I found faults at the Nikolaev airport also I advised them to eliminate.