The president of Ukraine Victor Yanukovych dismissed from a position of head of Vradiyevsky RGA Yury Marchuk.
The corresponding order at number 68/2013-рп «About Yu.Marchuk's release from a position of the chairman of Vradiyevsky regional public administration of the Nikolaev area» , dated on February 18, it is published on a site of the head of state.
We will remind, Yury Marchuk was appointed on position in April, 2010 .
We will remind that in November, 2012 the governor of the Nikolaev area Nikolay Kruglov I threatened To Yury Marchuk dismissal for that in the Vradiyevsky area big problems with a baking of own bread.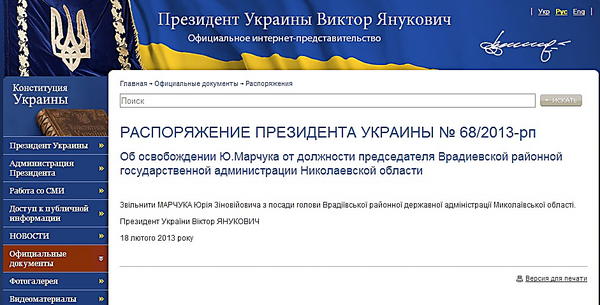 We will note that the Vradiyevsky area during the last elections in the Verkhovna Rada was included to the scandalous district No. 132, where to establish results of elections it wasn't possible.
It is remarkable thatYury Marchuk is the nephew of that general Evgeny Marchuk who was the head of Security service of Ukraine (1991 - 1994), the Prime minister - the minister of Ukraine (1995 - 1996), the Secretary of Council of national safety and defense of Ukraine, the Minister of Defence of Ukraine (2003 - 2004), was twice elected the People's Deputy of Ukraine - in 1995 and 1998