On January 13 in the city hall passed the first, so to speak, "inoculating" meeting on development of offers on ordering and legalization of business activity in Nikolaev, directed on replenishment of the city budget.
According to the deputy presiding over a meeting mayor Alexander Zhenzherukhi, businessmen and the city hall need to develop such actions that crisis as it is possible easier I concerned our small and medium business (and indirectly - and the city budget which for more than 40% is filled at the expense of businessmen) or maybe I avoided them. And, as the head of the Nikolaev representation Goskompredprinimatelstva Valery Vetrov was expressed, "we have to hear that disturbs businessmen of that it is necessary to be afraid that we could keep small business and not allow its reduction".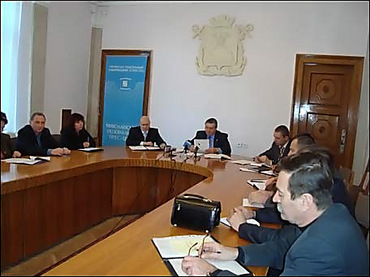 Fondly was to count that the first meeting will take place structurally - in the spirit of "there is a problem - the decision" has to be such, as though on it adjusted being present A.Zhenzherukh and V. Vetrov. It was felt that businessmen not only are frightened of crisis, but also are angry different "delicacy" in the taxation in the form of bills (assuming, for example, increase by 25 times of a payment for a place in the markets, not to mention a rent), therefore demanded from deputies of city and regional councils of a denunciation of such "remarkable" law, quarrystone it is accepted by People's Deputies in the second reading. Besides, businessmen and apropos "behavior" regional power which demands payment for the electric power on 70-80 kopeks/kW moreover and advance payment spoke.
The deputy head of territorial administration of AMKU Victor Volik tried to explain to businessmen that the listed problems not in competence of local authorities, but only caused deaf discontent of comers on a meeting.
And close to local realities speech of the chairman of regional labor union of businessmen of small and medium business Elena Gerasimchuk was more concrete.Which - that the press already, by the way, from it heard during upholding of preservation of current rates of a uniform tax at December session of city council but which - that sounded for the first time. For example, about a problem with Black Sea Coast bank, in which at many businessmen open accounts.
By words E.Gerasimchuk, bank doesn't make payments (it thus that businessmen till January 19 should pay taxes, there are also other payments and деньг it is impossible to discount), thus representatives of the management of this bank advise businessmen to open accounts in other banks.
Besides, E.Gerasimchuk reminded the city authorities of the promise of the mayor Vladimir Chaika to hold a meeting with directors of the markets after New Year's holidays that the last didn't raise rent rates. The chairman of labor union with the offer for crisis addressed to replace penalties for the violations revealed by controlling and inspection bodies, any other measures, as penalties strongly подкашивают businessmen. Also E.Gerasimchuk asked the city hall (namely - architecture management) to make advances businessmen in questions of commissioning of various objects (shops, for example) - figuratively speaking to close eyes to "roughnesses" (for example, problems with branch of the earth under already existing object).
Interesting information was announced by the head of department of the taxation of natural persons облГНА Victor Stepanets who at once asked forgiveness for businessmen that … will check them all the same. Tax specialists, according to V. Stepants, collected preliminary data on at what enterprises are going to reduce workers and consequently, payments in budgets will automatically decrease.

Where - that workers already started reducing therefore, according to forecasts of tax specialists, in local budgets of area in January will arrive on 10 million UAH less, than in January of last year. Besides, since the beginning of year only across Nikolaev the quantity of "edinonalozhnik" (and this with the fact that the city council didn't approve increase of rates of a uniform tax - an editor's note) was reduced by 5 thousand people.
However, not only this information was new and actual, corresponding to a spirit of the age:Elena Gerasimchuk expressed pleasure on the fact that the g - N Terrible ceased to head regional GNA, so, to the past, in principle, practice "voluntary compulsory" has to consign subscriptions to "The bulletin of tax service" (on this media at Terrible in the tax signed everyone for which any reference was necessary, and E.Gerasimchuk knows the businessman to whom in 3 days 5 times on "The bulletin of tax service" were necessary to subscribe). But what on it V. Stepanets could tell? Not in its competence to promise businessmen that such any more won't be.
There were still performances from businessmen who were generally brought together to general phrases like "don't prevent us to work" without any reality. Reality have to develop during meetings which will take place almost an every day in various directions of business (separately - on the businessmen trading in the markets). But the main thing for what V. Vetrov and E.Gerasimchuk called businessmen, - not to be silent, to make something in the protection and to report about the problems (and methods of their decisions) or in the city hall (trade department), either in labor union, or in representation Goskompredprinimatelstva.