Today, on January 14, in Nikolaev opening of the reconstructed transformer substation for residential district Alluvium service took place. At a ceremonial opening of substation there was the Nikolaev mayor Vladimir Chaika, the director of the department of housing and communal services Vladimir Novozhilov, and also the chairman of the board of JSC Nikolayevoblenergo Boris Sorkin.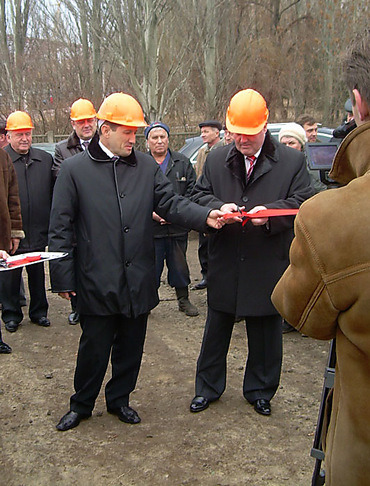 "I am very grateful to the management Regional power that for the last year they made a lot of things for ensuring stability of supply of the electric power to our residential districts, - the city mayor to whom honor to cut a red ribbon on the reconstructed substation dropped out declared. - Confirmation of it is that fact that we now are on such big object in which 18 million UAH were enclosed to stabilize supply of electricity to residential districts of the Scaffold, the Scaffold-2, the Dry Fountain and the Alluvium. This object for us is very important as this substation completely liquidated a dangerous situation with supply of electricity in the specified areas".
Boris Sorkin noted that this project is ноу - Hau for Nikolaev and the Nikolaev area, in it a number of technical innovations is realized. "On substation modern blocks with vacuum switches what in area yet wasn't before implementation of this project are installed, - the head of "Nikolayevoblenergo" told. - In addition, it is the only transformer substation in area which has three sections on 150 kilovolts that will allow to carry out switchings and various repairs without blackout for inhabitants of this area".
After solemn cutting of the red ribbon, present could consider closer the reconstructed substation and examine its opportunities. Then by old tradition of shipbuilders Vladimir Chaika and Boris Sorokin broke into good luck about substation "board" a champagne bottle.