Yesterday in the field of the Central city stadium the training of the Nikolaev team of masters first in present year took place.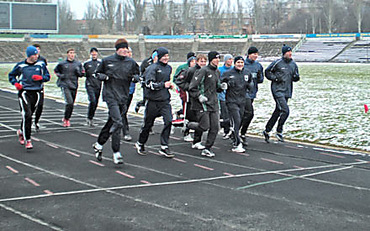 Football players ran cross-countries, were engaged in all-physical preparation and exercises with a ball.
Players and trainers while train under the auspices of the Taurus — VAK team as the contract with new owners of IFC "Nikolaev" is in a stage of coordination and isn't signed yet.
On training there was Nikolay Marchenko whom on recent a press - conferences presented to the city halls as the president of IFC "Nikolaev". Actions of football players trainers Mikhail Kalita, Anatoly Stavka and Leonid Maly who has recently come back from Kiev from trainer's courses, and also the sports director Leonid Nikolayenko directed.
It was succeeded to learn that from autumn structure of IFC "Nikolaev" is decided to give chance to prove to Alexander Marinenko, Artem Okhrimenko, Alexander Matyushov, Vadim Radiole and Faramaz Veliyev. At pronouncement of this decision recommendations of former trainer's structure of IFC "Nikolaev" were considered. The idol of the Nikolaev fans the goalkeeper Alexander Lavrentsov recognized as the best football player of area of 2008, won't play for the Nikolaev club.
On the first training there was the best goal-scorer of last year's superiority of area Alexander Babeyko from "Varvarovki".
In training camp of team other performers will be called also. Already yesterday for occupations there were some nonresident players. In the next few days the Nikolaev team will hold bilateral games and sparrings with local teams.
There are news of rather training base of IFC "Nikolaev" on Sportivnaya Street. Having seen its deplorable state, the new management of club made the decision: for the next month nonresident football players will be placed in Turist hotel, in the same place players will eat. Further in a room subject for football players will be engaged closely.
Last night it was succeeded to communicate to the director general of JSC Telets-VAK Anatoly Valeev. He reported that the contract between new owners of IFC "Nikolaev" is almost agreed, there were some formalities. In the next few days this document will be signed.