Today, on February 9, in Nikolaev protest action of association of the Nikolaev businessmen "Anticredit" - "Borrowers against credit slavery" started.
At 13.00 near the building of the Nikolaev regional state administration meeting on which there was about 350 people
took place
As one of the first the Nikolaev businessman and the activist of this movement Andrey Murlyan made a speech at an action. It read requirements of protesters and urged the authorities to develop anti-recessionary actions.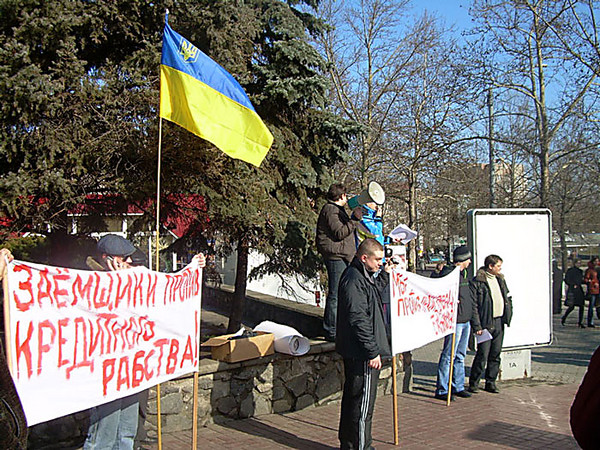 Among the main requirements of participants of the action - to tie percent on the credits to a dollar rate 5,5, to share responsibility between banks and borrowers, and also to dismiss the head of NBU Vladimir Stelmakh - the person who goes on leave at such crisis moment, according to "anticreditnik", can't direct the main bank structure of the country.
"Let to us leave and will explain why we have to pay such big rates on the credit and also what exits from current situation are, - Andrey Murlyan called. - Why 100 Ukrainian bankers have to profit on us? After all in a present situation banks don't get profit, only bank "top" is enriched.
Also I made a speech at meeting and the leader of social movement "Got" and "The third republic" Andrey Revtov. He demanded that to protesters there was a governor - it as the representative of the President of Ukraine in the Nikolaev area has to communicate to protesters and tell them how to leave current situation.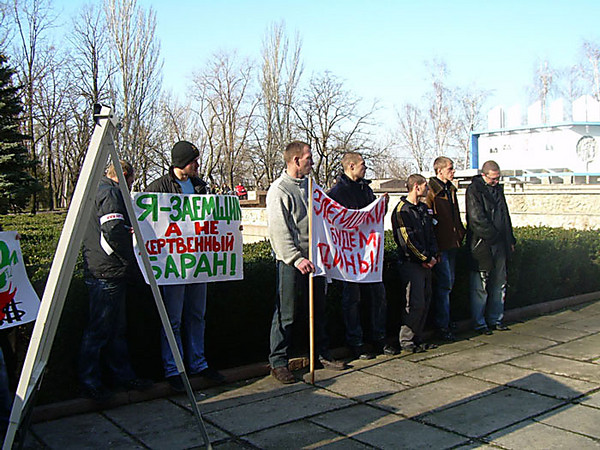 The Chairman of representation of Committee of Ukraine on regulatory policy and business in the Nikolaev area Valery Vetrov was also welcome guest on this action - to it at protesters questions also collected.
However appeals acting remained without answer - officials of area ignored an action and didn't leave.
On meeting one more performance became remarkable - one of participants of the action urged to address on the matter to representatives of local government - local deputies. In his opinion, they also bear responsibility for the events in the country. If they aren't able to give the worthy answer, it is necessary to hold quickly early elections by the majority principle.However the political bias of performance wasn't pleasant to organizers of an action - acting simply muffled a microphone and declared that this action isn't political.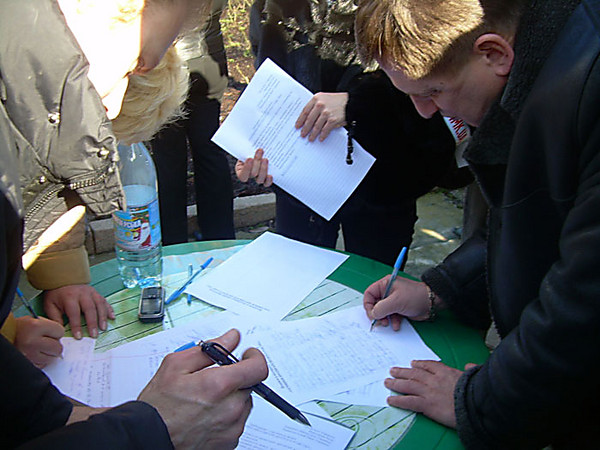 In action end before the building the effigy of the American currency - dollar was yeah burned.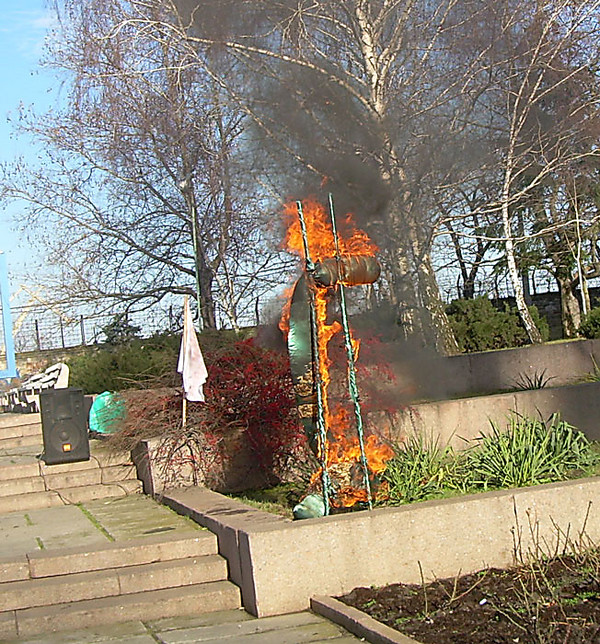 "While it is peace actions. But if the situation doesn't change, it can develop into something bigger - labor staff of our enterprises is huge, and it will be difficult for us to keep people from active fight for the rights", - activists of movement summed up.