Communists should pay tribute: they picked up the widely publicized Internet question to the President about quantity of the money necessary for departure across the ocean, and tried to realize it.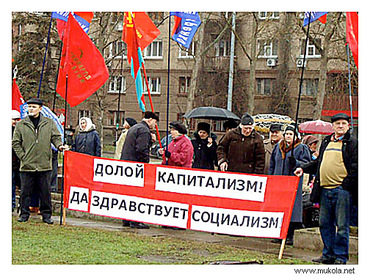 But, unfortunately, "candy" from this didn't manage to be made it - from the point of view of PR-of technologies of punctures was a bit too much. Beginning from the car which brought the plane (according to in time to read brand, it was "Dodge", it was driven away fast from eyes down with though the sum from sale of "rarity" would suffice on sending huge number of people where far away), and finishing plane at which wings were cut off (as on such aircraft it is possible someone where - to send that? ).




But hardly the pensioners who have come on February 11 in the rain to meeting within round of civil disagreement "Yushchenko - the Suitcase - America", noted these absurdities as speeches acting, as always, were ardent and bright.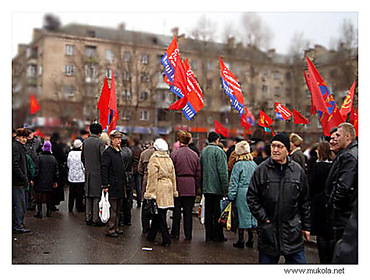 Nikolayevtsev urged to give on "a labor five-copeck coin" on the ticket to the president. "The first and main oligarch - Yushchenko. If on 5 kopeks 47 million are dumped, money will suffice not only on Yushchenko, but also on his family, and on part of ministers", - the People's Deputy Vladimir Matveev spoke from a scene.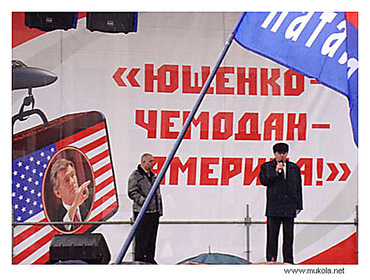 As a whole, the rhetoric of meeting was to the corresponding subject: the country and the people in danger, "the president stirs all", "to this person not a place in the territory of Ukraine", "if the president doesn't reflect, let start drying croutons - we will find "country house" in our country", "come back 90-е when benderovets came to the power".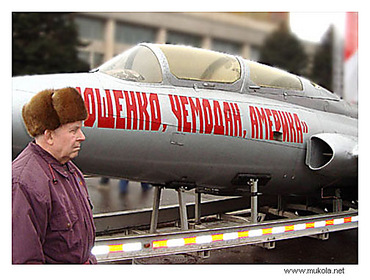 If to speak about money, about 500 UAH are collected for today. After round on several cities of Ukraine solemn transfer of funds for Bankovaya St. in Kiev which, clear business, nobody will accept will take place. That further will be with the money collected for V. Yushchenko while it isn't known.