Today, on February 23, the Nikolaev businessmen went to Kiev to picket National Bank of Ukraine and the Secretariat of the President. This action in the capital has to will take place within All-Ukrainian protest action. Part in picket will be taken by businessmen who united in public organization "Anticredit". The action will begin at 12.00 under walls of National Bank of Ukraine.
About 50 "anticreditchik" went to Kiev by bus, 20 more - on an individual transport.
With themselves nikolayevets brought bull blood - during picket they plan to leave capacity with this liquid at the Secretariat of the President that has to symbolize people blood which the government "drinks" from it the actions.
We will remind that requirements of ancreditchik are consolidated to the following:
1. To remove a ban on return of deposits;
2. To translate the currency credits in hryvnia at the rate at the time of signing of the credit agreement or to give opportunity to repay monthly payments at the rate at the time of contract signing;
3. To provide credit vacation both on a body, and for percent on the credit, in case of confirmation of a difficult financial position;
4. To forbid banks to increase an interest rate for the credits. To return already increased rates to specified in credit agreements;
5. To forbid property confiscation in case of delay of payments in the presence of the non-payment reason on the credit;
In Nikolaev in support of the Kiev action motor rally on Lenin Avenue and Hersonskoye Highway, and also down the street Garden and Admiralskaya Street took place. About 40 cars took part in motor rally.Cars went under the slogans "Borrowers Unite" and "NBU Shame".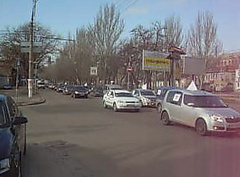 It is planned that at 13.00, after the end of motor rally, solemn wreath-laying to NBU doors will take place.
From "Crime. Is NOT PRESENT": Involuntarily you ask a question - and who forced to take them the credits? After all citizens take part in motor rally on new cars which most likely were taken on credit. That is, borrowers use the benefits taken from banks, and by "credit cars" show discontent with interest rates. Why - that in a column which was passed on Lenin Avenue wasn't Zhiguli car any, say, - entirely brand new "foreign cars" …