Good afternoon!

My name is Halapov Albert, I am 28 years old, I since 1990 live to Nikolaev, Ukraine. I am an Armenian, and arrived to Ukraine from Baku during war of 1990

Still I not especially felt on myself any oppressions on a national sign, but today I was simply struck.

In the center of our city there is a shop and bar under the name "Hundred part", it belongs to the local deputy Victor Gorbachev.

I there had constantly a rest with friends, till today... ! I came there with the girl, we mudflows then the real circus began: The waitress approached to us and asked, what nationality at me. We politely took an interest, why she needs to know it? ! On what she answered that to them forbade to serve Muslims, we were shocked! ! !

Well, as I am a Christian, I solved for the sake of not healthy interest to tell that I am Armenian, i.e. at all the Muslim. On what answered me that Armenians forbade to serve to us too! I consider it as simply impudence and I want to receive council as to deal with this case more effectively? !

I want to get on reception to the mayor, also I plan to write the application in society on protection of the rights of the consumer, in society on protection of the rights national. minority and society on protection of human rights (but unfortunately I don't know where it is in our city).

If you can help me something or to advise something, you call 8068 340-90-90 Albert. Thanks in advance! "
The representative of human rights organization "is GIVEN" went to "Hundred part" together with Albert. The facts stated in the letter, were confirmed. Moreover, waiters refused service not only to Muslims, but also "persons of the Caucasian nationality", Jews and people with "a Middle Eastern face type".

Bashfully looking down, attendants of a public catering referred much, entered by the owner of the bar "Hundred part" Victor Gorbachev known in Nikolaev ex-nardepy two convocations.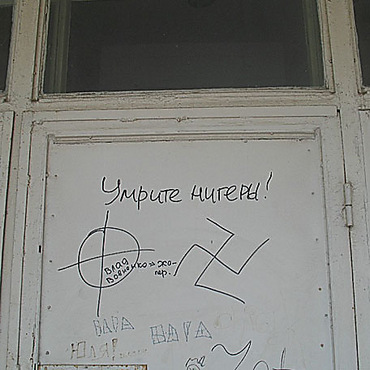 PHOTO: The fascist symbolics and hostile appeals, became long ago an integral part of an urbanistic landscape of Nikolaev.