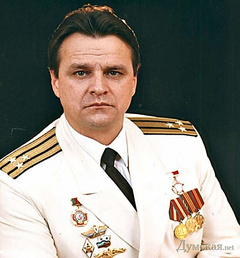 Public organization «Sevastopol - the Crimea - Russia» I awarded ex-the mayor Ismail Stanislav Borisenko a medal «For Liberation of the Crimea and Sevastopol».
The former mayor received an award 17 more March, reports «Duma» .
For what merits separatists marked out Borisenko, not it is specified. The edition notes only that the captain of the first rank of a stock now lives in Sevastopol.
We will remind, earlier the first a medal for «For return of the Crimea» I received «the prime minister - the minister» peninsulas, seperatist Sergey Aksenov. Also the Russian marines and the former fighters who have changed to the oath of division of the Ministry of Internal Affairs of Ukraine «were marked out command of the Black Sea fleet of the Russian Federation,Golden eagle».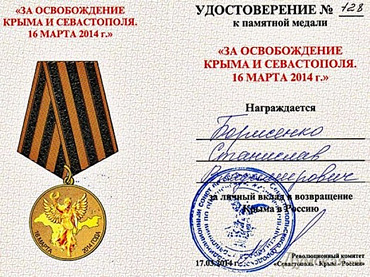 It is known that in the Autonomous Republic of Crimea on March 16 I passed unconstitutional and unrecognized the world a referendum concerning accession of the peninsula to the Russian Federation.
We will note that according to the head of the commission of the Supreme Council of the organization of a referendum Mikhail Malyshev, for reunion with the Russian Federation on a referendum in the Crimea 96,77% of inhabitants voted. At the same time, the leader of the Crimean Tatars Moustapha Dzhemilev declared that 99% of the Crimean Tatars didn't come to a so-called referendum in the Crimea, and the general appearance didn't exceed 30%.
On March 18 the president of Russia Vladimir Putin on the one hand, and the chairman of the Supreme Council of the Crimea Vladimir Konstantinov, the unrecognized prime minister - the minister of the Crimea Sergey Aksenov and «national mayor» Sevastopol Aleksei Chalyi signed the contract on accession of the Crimea to Russia. In the same day during storm of the Ukrainian fotogrammetrichesky center in Simferopol the Ukrainian soldier was killed.
On March 20 self-proclaimed the prime minister - the minister of the Crimea Sergey Aksenov and chairman of the illegitimate Verkhovna Rada of the Crimea Vladimir Konstantinov put on the wanted list.