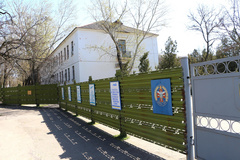 About 220 servicemen of the Sevastopol crew of tactical aircraft arrived to Nikolaev together with the families from the Crimea.
As of 11:00 Saturdays, March 29, the military evacuated from the peninsula and their native are equipped in sanatorium «Victory» in the Ship district of Nikolaev. About it from a place of events the correspondent «reportsCrime. Is NOT PRESENT»
To the colleagues the commander of crew colonel Yuli Mamchur plans to take off today for Nikolaev. In the late afternoon in military unit in the town «Levanevtsev» with the assistance of Mamchur and officers of crew has to will take place solemn construction.
We will note that was succeeded to be evacuated from the Crimea by the military of crew of Mamchur not without difficulties - a long time to officers and to their families couldn't find transport. Nevertheless about 22 o'clock in the evening on Friday the belbekovsky military personnel left to Nikolaev.
As told «Crime. Is NOT PRESENT» the head of the department of social protection of the Nikolaev regional state administration Olga Sivoplyas, all in sanatorium «Victory» on Gagarin Street 68 people from the Crimea–are placed these are wives and children of the military personnel, and also some women - the military personnel. Only 11 children of different age, among which one seven-months. Some of inhabitants of the Crimea arrived with domestic pets.
We will remind that On March 22 Russian military, having rammed gate on the armored personnel carrier and using the weapon, seized military unit near airfield «Belbek». I was the commander of part is kidnapped Yuli Mamchur.
Acting president of Ukraine, speaker of BP Oleksandr Turchynov I demanded to release Mamchur and to stop provocations from Armed forces of Russia. On Wednesday, March 26, Mamchur released.