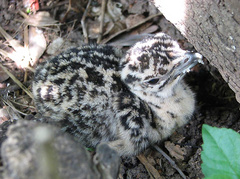 On Friday, May 23, in the best in Ukraine the unique event occurred Nikolaevsk a zoo: for the first time in the world as far as it is known to employees of park, it was succeeded to receive posterity from pitets of the bustard.
About it on the page on a social network «Facebook» the director of a zoo Vladimir Topchy reported.
- The baby bird was sat out by a female. The first egg was postponed on April 29. The second near a nest on May 2. Egg was driven in a nest, however by the male of the bustard who is in the same open-air cage, one egg расклевал. It transplanted to the neighboring open-air cage. The area of the open-air cage in which насиживала a female, 450 square meters, the open-air cage densely overgrew a grass and a bush. This group of bustards lives at us the fourth year. The main thing now - to keep and grow up the kid. The bustard - a unique disappearing bird of Europe, - Topchy wrote.
We will remind, earlier, at the end of March of this year, in the Nikolaev zoo from Moscow brought a white she-bear.