The elephant cow laid down on a room floor. It couldn't get independently on feet, is emergency it was necessary to crane it the powerful.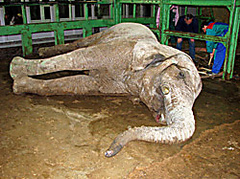 Bad news - in Nikolaev isn't present more elephants. On Friday, 13-го, in Nikolaevsk a zoo Chiang's elephant cow died.
It was 35-37 years old, more precisely difficultly to tell, Chiang moved to Nikolaev already adult, from circus. But anyway, it is still far not an old age, elephants live in bondage and 50 years, and more long. Chiang was ill, long ago and seriously. It was surveyed several times by the best experts. Her treated - the best and very expensive preparations. Unfortunately, it didn't help.
Initially chief veterinarian of a zoo Oleg Yavkin made Chiang the diagnosis. Which was confirmed on opening - but consolatory in it a little. The elephant cow had old problems with urinogenital system. Speaking not medical, but purely everyday terms, everything began with an inflammation by female part. The elephant cow - the virgin suffered from hormonal violations and chronic inflammations. The doctor and not expensive medicines, - only could help it not, excuse for naturalism, an elephant.
But neither the zoo, nor at the city had no money for an elephant and while isn't present. And meanwhile chronic problems of Changi became the reason of development of the most serious diseases practically in all internal - from kidneys to lungs. The process, lasting years, was irreversible. Business strongly became complicated also that from time to time, approximately once a year and most often in February, the elephant cow laid down on a room floor. it couldn't get independently on feet, is emergency it was necessary to crane it powerful which already several times provided to a zoo the Nikolaev seaport. In the nature, the elephant who laid down on the earth, perishes quickly enough - his huge weight simply crushes an internal.
For the first time Chiang laid down seven years ago, and since then the similar occurred almost annually. Every time managed to be put quickly it on feet then the course of intensive treatment followed. Elephant cow rescued. Situation, by the way, unique for zoos of the whole world. Not so long ago in Kiev the elephant who laid down here in the same way was lost, but didn't manage to lift it.
Health of our elephant cow supported in all possible ways, but it gradually worsened.Among other things, Chiang strongly I grieved from loneliness. Elephants - animals public, and life alone for them is intolerable. Didn't please her and significantly improved conditions of the contents - in an elephant house repaired a roof, equipped with heating floors … But processes in an organism of an elephant cow were already irreversible and a little compatible to life.
Foretold on the eve of nothing trouble. On Friday employees of a zoo came to work to eight mornings and again found an elephant cow lying on a floor. How many it lay this time, - it isn't known. Urgently called the crane from seaport, but didn't manage to lift to Chiang any more …