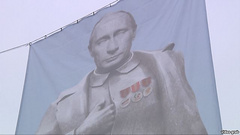 After change of the status of the Crimea, peninsula annexation, in the local journalistic environment the squealing - «started extendinginformants» receive from FSB of Russia a reward.
About it the Crimean Nastya Drozd in the blog on a site «writes Crimea. Realities».
«Sometimes today's reincarnation of People's Commissariat for Internal Affairs under the name of FSB shouldn't resort to threats at all or to intimidation. After all the modern person loves money. Not really demanded journalists of state Crimean and Russian mass media, high salaries not spoiled» are especially greedy for them, - she notes.
So, according to the journalist, FSB already created in the Crimea the network of informers from among «workers of not free press». For each denunciation it provides remuneration. The sum of 400 hryvnias for one message was called.
«Considering that many journalists receive no more than 3-4 thousand hryvnias a month, steam «knocks» is fine addition to the monthly income» , - the author of the blog specifies.
We will remind, earlier it was reported that on memorial service in the Crimea police I arrested the journalist Othman Pashayev–after a while it released, previously having beaten.