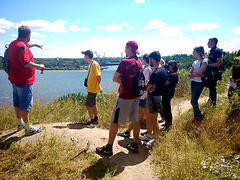 On Saturday, June 28, activists of the Nikolaev regional youth organization «Falcon» and local football fans held an ecological action to the ancient settlement «Wild garden» also helped with preparation for archeological excavations.
About it reports a press - service of the Nikolaev cell IN «Freedom».
During small excursion before an action the senior teacher of chair of archeology, ancient and medieval history, Institute of history and the right I RUMPLE a name V. A. Sukhomlinskogo Kirill Gorbenko told that «Wild garden» is unique archaeological object, as this only known ancient settlement of an era of late bronze in the territory of the South of Ukraine.
- Having visited this historical place, we were unpleasantly struck that, the culture of the majority of our fellow citizens is how low. Here citizens come and stretch stones of ancient buildings and strengthenings for arrangement of the centers and places of the temporary rest. Thus waste after such rest remains in the territory of an archaeological monument, - the head of the Nikolaev cell «notedFalcon» Vladimir Gubsky.
During an action activists established in the territory of the ancient settlement of the plate «Attention! Archeological excavations» proceed and «Don't litter! Protect history». We will note that excavation on a place of the Wild garden will begin since the beginning of July.