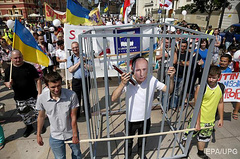 The pro-Ukrainian activists in Warsaw protest against policy of the president of Russia Vladimir Putin, condemn him actions and call the Russian president the terrorist.
About it reports 5 channel.
As it is told in the message, on Sunday, July 27, in the capital of Poland to Warsaw passed anti-Putin march in which Poles and representatives of the Ukrainian diaspora participated. By police estimates, more than 250 people joined it.
Some hundred people came to Zamkovaya Square to express the support to Ukraine which struggles with the pro-Russian terrorists in the east. They passed on the central streets of the Polish capital to Embassies of Russia.
Participants of the action sang the known song of football fans with not absolutely acceptable characteristic of the president of Russia. At the head of march bore the man in a cage and a mask Vladimir Putin.
At first activists stopped at Embassy of the United States where demanded to stop traffic in arms with Russia. Then - moved under Embassy of the Russian Federation. There lit 298 candles in memory of victims from "Boeing" of Malaysian airlines in Donetsk region.