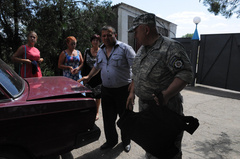 Representatives of private product trading company «Агросвіт» , and also «not indifferent inhabitants» The Snigirevsky area on Wednesday, July 30, transferred 5 bullet-proof vests to a battalion of militia of a special purpose «Nikolaev» (nicknamed «Saint Nikolay» ).
About it the correspondent «reportsCrime. Is NOT PRESENT» from a place of events.
Earlier it was reported that the battalion is equipped thanks to common efforts : The Nikolaev customs transferred to members of spetsnaz special equipment, in particular, kneecaps, the prosecutor of the Nikolaev area Roman Zabarchuk - bullet-proof vests of the fifth extent of protection, the municipal enterprise «Pharmacy» - individual first-aid kits and additional drugs of the first need.
Management and workers of ChPTF «Агросвіт» , and also inhabitants of the village of Novopertovk of the Snigirevsky area offered money for purchase of means of protection for fighters of a specialbattalion.
- Guys, God grant, that everything was peacefully - silently. But all of us decided to buy that you with honor with advantage bore the service on protection of the population of our country and were protected, - the volunteer told.
The head of department of the Ministry of Internal Affairs of Ukraine in the Nikolaev area Artur Merikov, in turn, thanked volunteers on behalf of specialbattalion «staffSaint Nikolay» also I noted that fighters often perform fighting tasks in the most hot spots in the east of Ukraine.
We will remind that about 30 employees of the Nikolaev garrison of militia went in a zone of carrying out Anti-terrorist operation that militiamen who are in the east of Ukraine about a month, could come back home and restore forces.