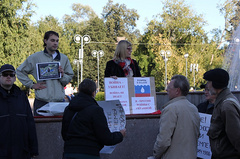 On Friday, September 5, activists of regional office of movement «Solidarity» and ordinary residents of Tomsk held a public action in the city, having expressed these a protest against actions of the Russian government concerning Ukraine.
About it reports portal «To Tomsk.R».
- From the city hall informal offers on arrived gathering far away from the downtown, but the formal basis to refuse to us wasn't. As for aggression from our opponents, prior to action from one of participants of picket broke a bandana with the Ukrainian flag, but a problem quickly eliminated, - the organizer of an action Alexander Pustovoytov speaks.
People brought with themselves the Ukrainian flags and posters with inscriptions: «Will suffice to nightmarize Ukraine» , «I for the world».
Also the action was visited by citizens, discordant with opinion of the picketing. According to the resident of Tomsk Vasily Zyryagin, action shined events in Ukraine one-sidedly, only accusing of all Russia.
We will add, according to Regional Department of the Ministry of Internal Affairs on the region, picket took place without incident.
We will remind, citizens of Russia wrote down a video congratulation for inhabitants of Ukraine with the Independence Day. Congratulated Ukrainians as simple inhabitants of Moscow, and those who visited the Maidan in the winter.
We will add that in Rostov the authorities dispersed meeting in honor of the Independence Day of Ukraine.