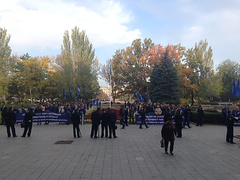 On Friday, October 17, in Nikolaev before the next session of regional council near the building of the regional state administration passes picket against increase of tariffs for utilities part in which planned to take the People's Deputies standing according to the list «Oppositional block» , Nestor Shufrich and Natalya Korolevskaya.
About it from a place of events the correspondent reports «Crime. Is NOT PRESENT».
We will remind, earlier it was reported that local curators «Oppositional block» for participation in this meeting will bring people from all area.
Besides applications for carrying out meetings under YEAH this day for the morning were submitted by employees of the enterprises who among themselves compete for control over the forest grounds located in the Nikolaev area.
Information is constantly updated…
10:00 How activists threw Shufrich's eggs, got to his security guards and the head of "OP" in the Nikolaev area, ex-vice-the governor Vyacheslav Rukomanov a little.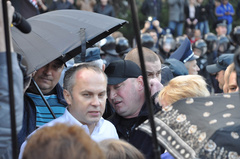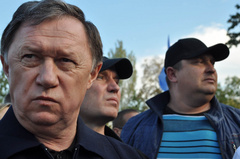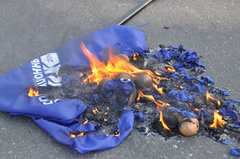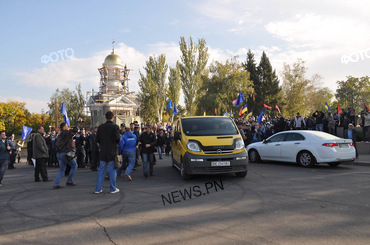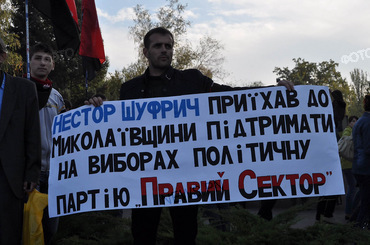 09:55Near YEAH there was a people's deputy Nestor Shufrich. It at first passed through a cordon of militia, going to administration. There the pro-Ukrainian activists began to throw it eggs. Then it returned to picketers «OP» also I suggested them to walk.
Direct hit egg in Shufrich:
As a result they reached to a monument to Heroes - Olshantsam where it gave the comment to the press. Later they went to Lenin Square where activists continued to throw the people's deputy eggs. Then he got into the yellow minibus and left.
The pro-Ukrainian activists pulled out at picketers «OP» some party flags also burned.
09:32Behind a cordon of militia the pro-Ukrainian activists, representatives gather «Right Sector» with flags, chant «Glory to Ukraine!».Militiamen put on helmets and became more dense before an entrance in YEAH.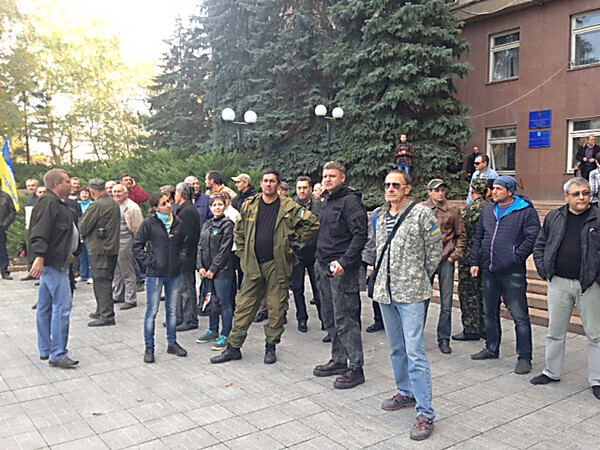 09:20Near administration hunters gather for the protest action. Them about 40-and person.
09:15Picketers approached an entrance in YEAH, generally it is young people and women of middle age. The militia exposed a cordon before an entrance, in hand hold helmets, bludgeons. Besides, on a place there are local pro-Ukrainian activists.
Picketers of "OP" hold in hand banners with inscriptions– «It is dissatisfied with the Ukrainian reality–vote for development and «Oppositional block» , «Lustration will feed will warm, won't create workplaces» , «"Noodles" "about a zdobutka" bothered Trust not the TV and vote for the truth and the Oppositional block». The candidate from «was noticedOP» on 129-му to the district Alexander Yasinsky.
As of09:00around Nikolaev already about 200 people YEAH gathered. People are verified according to lists, distribute party flags «Oppositional block» , organizers say to them that is necessary «to stand to 10». Familiar politicians or the Nikolaev public figures among them it isn't noticed.
Also on a place some tens militiamen are on duty.
Users on social networks discuss that near administration there are a lot of acquaintances «aunts» , and that Shufrich won't arrive.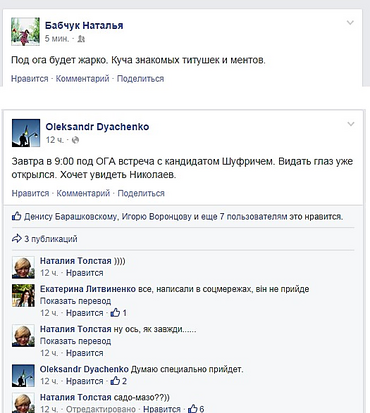 Protection covered