Basketball. Championship of Ukraine. Plya - офф. Third match.
Match - on a visit - nikolayevets carried out the two first traditionally - looked fateful from the very beginning. And when it was possible to come nearer to owners of a platform in the account, "chemists" found enough reserves for new breakthrough.
If to adhere to tradition it is scrupulous, nikolayevets have to play houses more surely, is closer to the average values in productivity, and also is more tenacious in defense. However even these inclusions in a plot yet don't guarantee that yuzhnenets won't be able to show the increased potential in "Hope".
It is absolutely impossible to count, will allow to hammer to nikolayevets their alleged lifting how more, especially - how less they will allow to hammer to themselves. But nobody prevents us to hope for an interesting match, persistent fight and … good luck.

Game
MBK "Nikolaev" - "Chemist" - 86:71 (28:12, 21:20, 19:17, 18:22)On April 21.Nikolaev, Nadezhda sport school, 1900 viewers
Productivity (points/minutes in game)
RAJEVSKI
15
33
FAMUTIMI
17
28
YAYLO
8
30
CHANAK
8
21
HLEBOVITSKI
6
25
KOLCHENKO
15
29
GLADYR
15
32
KELLY
6
37
JACKSON
19
37
THOMAS
12
34
Silkovsky
6
12
Sinovets
6
17
Onufriyev
17
26
Agafonov
4
18
Tonchenko
0
5
Courses
3
13
Priests
0
3
Head coachVladimir FIELDS
Head coachOliver POPOVIC
Accuracy of throws (threw/got)
2-point
32/20
31/15
3-point
34/11
17/7
Penalties
18/13
33/20
Selections (the шит / stranger)
19/11
23/10
Judges:S. Chebyshev (Kharkov), R. Ponomarenko, V. Isachenko (both is Kiev)
Commissioner:Yu. Sobolev (Kiev)

Already the first fight for a disputable ball показалала that nikolayevets included the highest speeds. The academic draw of combinations by players of "Chemist" encountered such resistance on which it wasn't calculated. Actually, the history of the first match repeated exactly the opposite. Again owners of a platform - nikolayevets - didn't save this time forces in protection and as soon as possible broke under a board of rivals.
All players of our starting five as a result hammered in the first period from three to 11 (Rajevski! ) points. At guests only Famutimi storm speed appeared on a hand. But alone you won't cope with the whole five - 28:12.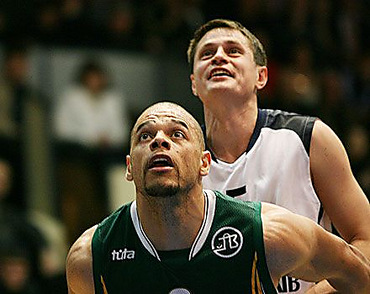 In the second period "Chemist" looked already absolutely other team. Played also Tomasa, from a distance again Kolchenko shot straight, earned and Sinovets realized fouls, under our board finished a ball in a basket Chanak.
Vladimir Polyakh took a time - a miss a little to bring down rivals "from a trace". Onufriyev to the successful starting attempt added 5 more points. Silkovsky who has come for replacement with a throw from a corner of a platform finished advantage of our team till 40:22. And after a time - a miss of guests the had a rest Gladyr too got from - for arches. It turned out so that only at the expense of truckers nikolayevets managed to constrain counterattack of yuzhnenets - 49:32.
However it wouldn't be desirable to hope for changeable fate. Rajevski also began the period with pass to the back of the rival. In reply to Kolchenko the tryulnik loaded. Nikolayevtsa since summer accepted a call: Gladyr and Jackson stopped a board on figures 60:35 (twice)!
Oliver Popovic, naturally, asked a time - a miss. It was thought, whether it will let out "gold reserves" not to injure the basis? By no means! Kolchenko and Agafonov were responsible from - for arches so that already nikolayevets considered to take an additional break for the benefit. However to hammer and then it appeared hard.
Gladyr ran under others board on an ambush, and, already almost from a floor, pushed a ball to a ceiling - round was screwed in in a basket! I will repeat, but Silkovsky who has come for replacement again throws from - for arches - precisely! Kelly goes on revenue the forward. So Onufriyev in an ending finishes a ball in a basket of guests with a foul - 68:49.
It is sure, before a final quarter already none of nikolayevets (players and fans) didn't doubt that the Megasport TV channel very providently planned translation of the fourth match of this series. Which is possible, I will remind, only in case of MBK "Nikolaev" victory in the first home match.
As soon as our basketball players began to give preference to control over a ball instead of risk to lose it in attack to a basket, guests took reins of government in hand. It appeared that Thomas and Famutimi aren't familiar with the program of basketball telecasts. And it was necessary when to play nearly 3 more minutes, at owners of a platform remained on hands of everything is that 7 points of a stock!
It was impossible to hope only for protection obviously. Jackson includes a forcing and breaks under a board where even center guests don't manage to cover a basket. In Yaylo's reciprocal attack only at the price of a foul I stopped Thomas.And that smears both penalties! But Rajevski for similar violation writes out to rivals lag again with the two-digit account.
"Chemists" forcedly hurry with draw and drop a ball for the front line. But Gladyryu prompt pass was successful on all hundred. And it didn't begin to contact this time big and heavy rivals, and gave a discount to Yaylo who has imperceptibly hidden under a board of guests - plus 13.
Courses hammers one penalty, and Onufriyev - a tryulnik. слэм - tanks nikolayevets give to the participant of competition the green street - Courses sticks a ball into a basket, being to it a back. Then Jackson wins a rebound on others board and from - under a nose center finishes a ball in the purpose - 86:71.
So last minute basketball players arranged to the audience small demonstration performance. Which promises hotter fight on April 23.
After game
The plot of a present series ply - офф between MBK "Nikolaev" and "Chemist" in accuracy repeats the last year's: two defeats of nikolayevets in Youzhny and victory in the first match in "Hope". While 1:2. I will remind that past year further followed the second victory in Nikolaev and the third fiasco in Youzhny. How - that will be this time?
Head coach of MBK "Nikolaev" Vladimir Polyakh:
- Unlike duels in Youzhny our team "ran" today in attack. Tomasa was succeeded to cover plus. In Youzhny Blair therefore I decided it not to involve in this match didn't cope with this player. At the same time any of the children who have come to a platform, didn't drop out of game. Gladyr, Rajevski, Jackson and Onufriyev "recovered" after "A match of all stars" and played the force. How to win "Chemist" the fourth match of a series? It is all about the desire to win!
Igor Silkovsky (MBK "Nikolaev"):
- We played well, but the last quarter of a duel showed that with "Chemist" it is impossible to relax.
Head coach of "Chemist" Oliver Popovic:
- Today at us almost it turned out nothing in protection. I affected result and very bad percent of hit of penalties. We remain in Nikolaev, we will prepare for a match which will take place on Thursday.
Dmitry Hodov ("Chemist"):
- We let to MBK "Nikolaev" know the game and if this team feels houses the game, it is impossible to stop it...
We will note that in case of MBK "Nikolaev" victory in a quarterfinal series with "Chemist" our team will come through to the semifinal and will battle to the winner of the regular championship "Azovmash". These duels will begin on May 3. Otherwise nikolayevets will play with "Sumykhimprom" in a "consolatory" series which starts on May 2.