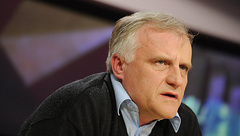 The head of the NATO information bureau in Moscow Robert Pshel declared very poor quality of discussion about problems of the relation of Russia with other countries.
The corresponding video is on YouTube video hosting.
Robert Pshel, having visited shootings of one of propaganda shows on the Russian television, I tried to convince attendees that a situation in Ukraine absolutely another than it show on the Russian TV channels.
- It as hatred session, promotion session. The point of view on that there is in Ukraine in the most part of the world absolutely another, than in this studio. People who watch your transmission need to understand it. You can't tell people that in the world all accept a position of Russia in the conflict to Ukraine. That allegedly Russia doesn't interfere with this conflict at all, - Pshel declared.
We will note that during Robert Pshel's speech, other participants of propaganda show constantly killed it and called him the russophob from - that it on a nationality the Pole.
We will remind, earlier it was reported that the Russian propaganda mass media I stirred up news about charitable fair «Подаруй warmly to the soldier» within an action in the First Ukrainian gymnasium of Nikolay Arkas of the city of Nikolaev.