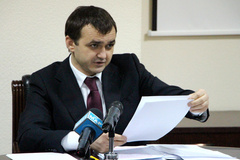 The governor of Nikolayevshchina Vadim Merikov compared Nikolaev the Internet - editions «with dustbins» , which, according to him, are crowded «garbage of various hearings» about his adviser Yaroslav Filatov.
He declared it in the comment «PN TV».
Merikov called Filatov «professional» , which goes in for economy and finance. According to the governor, his adviser «will open not one more corruption components in the Nikolaev area».
- This is the person who worked in the Cherkassk area, in Kiev region earlier, the person who was a persecuted regime of Yanukovych which actively works today and takes part in my meetings, in my plans which I intend to realize, - the head Nikolayevskoy YEAH told.
Thus, information on Filatov in the Internet - mass media he designates «throws» , and the Internet - resources compares with «dustbins».
- Information which is thrown in the press…The facts are necessary, but it isn't simple to watch boxes which are crowded, I don't know how dustbins at us in Nikolaev and Pervomaisk are crowded, so we have often an Internet - editions are overflowed with garbage of various hearings, - Merikov told.
Separately it is worth paying attention that the person with a name and a surname Yaroslav Filatov shone in connection with a high-profile case about waste of means on «Kiyevvodokanale». In 2011 against the former head «Kiyevvodokanala» and the deputy Kiyevsovet of Yaroslav Filatov opened criminal case on a charge of an abuse of power and official position.
It is also known that at Yaroslav Filatov part of stocks «Kiyevvodokanala» it was transferred to private hands, but through courts after it returned to municipal property of Kiev.
We will remind that earlier in the comment «Crime. Is NOT PRESENT» director of KP «Nikolayevoblteploenergo» Vladimir Bereznitsky declared that at a position of his deputies were two persons on request of Merikov's adviser of Yaroslav Filatov are entered.These people try to be engaged in withdrawal of funds from the enterprise now, force employees to do kickbacks and to deribanit property.
Besides, earlier the journalist Igor Pokh declared that the adviser to the governor of the Nikolaev area Yaroslav Filatov put the «looking» in the municipal enterprise «Nikolaev regional printing house».
We will note that earlier Merikov didn't begin to explain, why his assistant «I introduced» on «Nikolayevoblteploenergo» the people, but I promised that will check all.
Also it is worth reminding that in due time and the previous chairman Nikolayevskoy YEAH Nikolay Kruglov repeatedly stated claims to work of the Nikolaev mass media. So, commenting events in an okruzhkoma No. 132 in Pervomaisk in November of last year, he declared that journalists lit occurring not as was actually. Besides, Kruglov hinted earlier that mass media the publications frighten off investors. Also it is worth reminding, as Kruglov I couldn't understand, why it can't offend journalists.
Also it is worth reminding, as Kruglov and his members of the same party - «regionals» , on one of the party conferences, found lion's part of time for stories that the Internet - editions is «garbage tanks» .