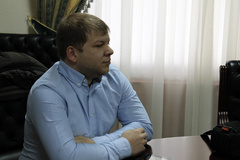 Personally governor Vadim Merikov bears responsibility for all actions of the current adviser to the chairman Nikolayevskaya YEAH Yaroslav Filatov.
Such opinion on the page on Facebook was expressed by the head of OO «Center of analytical researches» Andrey Senchenko.
Senchenko notes that the meeting of journalists with the adviser to the governor of the Nikolaev area Yaroslav Filatov generated even more questions, than was before.
«As - that his words about altruism, namely about moving from the capital to Nikolaev on a salary in 1218 hryvnias not absolutely convincingly sounded. Stanislavsky would tell: «I don't trust!». Also that the adviser to the governor couldn't sound accurately the functional duties, «is remarkablehaving lost thus a speech power» , - the head writes «CAI».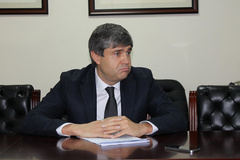 Thus he notes that a question «Than actually this citizen is engaged in YEAH?» to these on remains open.
«For myself at the end of communication I noted one key moment–Yaroslav Filatov, an hour later after the beginning of conversation, let know that the governor of the Nikolaev area Vadim Merikov who personally invited him to himself in advisers bears responsibility for all its actions. Thus it is worth focusing attention that they are familiar with each other less than a year» , - Senchenko writes
«However the most sad even not in it. After all today very few people pay attention that «great manager» as arrived to Nikolaev, so quietly and will leave back…and all of us together will remain with baggage of its achievements…here» - the expert summarized.
We will remind that earlier in the comment «Crime. Is NOT PRESENT» director of KP «Nikolayevoblteploenergo» Vladimir Bereznitsky declared that at a position of his deputies were two persons on request of Merikov's adviser of Yaroslav Filatov are entered. These people try to be engaged in withdrawal of funds from the enterprise now, force employees to do kickbacks and to deribanit property.
Besides, earlier the journalist Igor Pokh declared that the adviser to the governor of the Nikolaev area Yaroslav Filatov put the «looking» in the municipal enterprise «Nikolaev regional printing house».
We will note that earlier Merikov didn't begin to explain, why his assistant «I introduced» on «Nikolayevoblteploenergo» the people, but I promised that will check all.