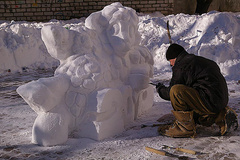 Nikolayevets Dmitry Slepukha, having used a huge number of the dropped-out snow, I stuck together from it a lamb figure - a symbol of 2015.
He published the corresponding photos and video on the website.
«At the time of New year, on December 29, in Nikolaev a lot of snow dropped out, and for me it became an occasion of creation of a sculpture. It is possible to tell that this continuation of my addresses to people, another action of a preservation of peace, friendship, pleasure, light of solidarity between people. We began with all yard it even in the summer, on st. 12-I Longitudinal 42-. This time was much less assistants, domestic children (snow, it is cold), but left, together made a basis, filled snow a timbering, and next day I already started cutting from snow of a lamb–symbol of 2015. I finished sculpture on January 1, and it staid a day more three in warming which came in the city» , - Dmitry noted.