In the settlementVoskresensk of Oktyabrsky districton the eve of the Victory Day meeting and flower-laying to a monument which is established on a place of mass execution of Jews in days of the Great Patriotic War took place. According to historians, on this place more than eight thousand Jews were destroyed.
The Jewish society traditionally holds such meetings already a current of ten years (since then as the memorable sign was established).
This year veterans of war took part in meeting - members of the Jewish society, authorities, pupils of Shouting Menakhem school, and also locals.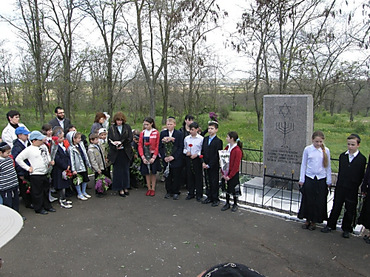 Chairman of the board of veterans of "NERO"Miron EndelsteinI told about events of September 1941-го years when fascists destroyed thousands people in a beam between Voskresensk and Kalinovka.
"Today we have data that here found the death of 12 thousand civilians whom brought from Nikolaev, - declaredMiron Endelstein.- Therefore on our initiative and with support of the regional power on this place the memorable sign" was established.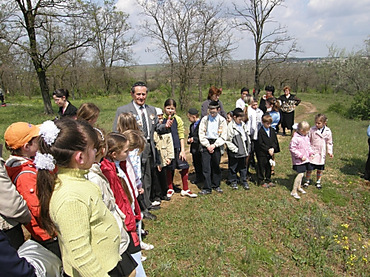 Head of department of affairs of nationalities of the regional state administrationElena IvashkoI congratulated all gathered on a coming big holiday - the Victory Day then addressed to youth and I urged them to store memory of terrible events of the Holocaust. About it reports a press - service of the Nikolaev regional administration.
After a prayer for the dead which was carried out by the chief rabbi of the cityCrazy Gottlieb, gathered assigned flowers to a memorable sign. We will remind that in the first of April vandals painted this memorable sign with fascist symbolics and inscriptions "Death to kikes".