Task of all thinking citizens, be they supporters of the power or opposition, or skeptically belonging to policy in general not to allow such "heroes". But also fans of romantic prospects let know сво a place.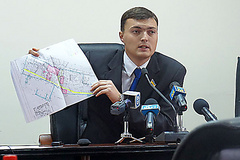 In one village there were two collective farms. In one collective farm all hens laid many eggs, cows gave big yields of milk, and pigs were fattest. And in other collective farm of a cow lean, hens don't rush, pigs die from an underfeeding.
Animals from bad collective farm decided to go to good collective farm. All leave, and a dog the Ball decided to remain.
It is asked why he decided to remain. And he answers that he has romantic prospects here.
- What it is romantic prospects? - animals ask.
- And I heard, - tells the Ball, - as the chairman of collective farm spoke, that if affairs so farther and will go, we will suck everything at the Ball.
---
I talked to one good friend - the deputy who convinces me that Igor Dyatlov really fights for a chair of the mayor and that it has all chances it is chair to borrow. At once it became ridiculous. I thought that we lost it. But isn't present, I with foam at a mouth am told that Dyatlov fights for a chair.
What such «chair» can be at opposition? The opposition, by definition, has no chairs–there is a tribune, meeting, continuous communication with people, professional discussion, development of alternative decisions, control of the power, fight against corruption…
As in general it can be connected with opposition, in honest understanding of value of this word, the professional coward also stuck, the fan to primostit the back in a myagenky chair?
Digression to history of our "collective farm"
Events on the Maidan "winnowed" hope still a year ago that the power will become a little more open that new honest faces will come to it. However, the same old persons try to gain in new appearances trust of voters–and, as a result, to justify the further actions.
Here and many were sure of Nikolaev that Woodpeckers, shouting same as it to accomplices «To bandits–prisons!» , won't return to public policy any more. Woodpeckers, which publicly refused the post of the head of a regional council at Lenin's monument and which promised to dismiss fraction of Party of Regions in a regional council.However almost at once he inherited «sdykhayushchy» regional organization of Party of Regions as acting regional head. As if nearly I refused...
The mayor's elections approach. To go on the mayor's elections in May he I didn't dare, and I carried out a miracle - combinations on procrastination of voices at Granaturov. Even I poured water on Isakov's mill. But nobody supported plain combinations. Further "the great schemer" nearly went to elections to BP. Nearly I went in Voznesensk, then nearly I went on 127 majority to the district. It needed a flawless victory - "ипон" as Japanese speak. But, he is a guy not silly and understands that clean will never win...
For a victory it needs to take control of the "Oppositional block" gaining steam Which appeared as a result of merge of two Ave. of Party of Regions and Party of development. They say that once to a position of the leader of the party of development in the Nikolaev area even married off the colleague Dyatlov - Roman Vasyukov. But after some talk with Dyatlov, Vasyuki firmly and resolutely I refused.
As children when two PR merged in one "The oppositional block" which is headed any more not by the colleague were surprised, and it is rather an opponent Dyatlova, the person of old team - "grandfather" Rukomanov.
And now our schemer is compelled all the efforts to direct on war in "The oppositional block". After all on its way suddenly there was the former vezdevystupayushchy party functionary and the deputy governor at the time of blossoming of the Ave. Now all fight of Dyatlov is reduced not to work in opposition for people, and appropriating and new created «Oppositional block» , and to drown «grandfather» Rukomanova.
For all year of the management of regionals any help to people it wasn't carried out. Any addresses and complaints. Any criticism and oppositional work. That there people, Woodpeckers even I didn't hold any party conference, being afraid and for this chair of the deputy of the Ave.
Except a close circle «associates» on old affairs, none of Party members didn't even see it. As well as voters–after all he from himself didn't resign deputy authority. Whether you saw Igor Dyatlov though on one of sessions of the Nikolaev regional council for the expired year? In the country permanent crisis, war, an impoverishment–where this, excuse, «oppositionist» ? You think how Soltis went to anti-terrorist operation?
«People's deputy» frankly ignores the duties, sits out at the small restaurant.It grieves it to repeat Isakov's destiny and to put the mandate. And it is probably terrible to appear on public, not that to work with voters.
Methods of work of "chairman"
It appeared where more fascinating than, say, courageously to stand up for the arrested oppositional deputy Nikolay Mashkin. Why Woodpeckers concerning which business on kindling of discord is run, doesn't show the slightest solidarity?
For «chair» in a pre-trial detention center near Mashkin–poorly to be overcome?
That it is–professional cowardice or small revenge what the Kiev administration ignored dyatlovsky amateur performance in the City Council? But it isn't surprising if to consider that it for fraction. All deputies caught on bribes, weren't beaten anywhere. All of them gathered exactly here, Group which as opposition, really not indifferent to the city, anybody will never perceive.
Here, say, fairly criticize the city authorities and the mayor Granaturov for snow and especially «garbage» collapse. But as it is possible to perceive the criticism proceeding from fraction where all just sat down in what forces was to attend to the solution of these problems? Most «garbage» fractions that is control over the firms which caught corresponding the tender and actually blackmailing citizens and the city hall?
All direct participants of criminal schemes on distribution in the pocket of the city earth, the budget and municipal property created by Dyatlov, Kopek, Bayev, Omelchuk are brought together in this «garbage» to group to keep itself in power, after all another they aren't able–such here at us it is planned «opposition».
It would be possible to tell that it is «ostrich's behavior». Here only Woodpeckers not simply hides the head under the earth–it digs under it the rat courses, invisible to strangers. When under Nikolay Kruglov the chair from - for the vradiyevskikh of events reeled, he not only didn't give it support, but went to Presidential Administration to offer itself favourite instead of the patron. As said, for the sake of it he didn't regret Bentley for Sasha Yanukovych personally and a cash suitcase in the Apostle. Didn't grow together, saw there and not such swindlers. As a result making ambitious plans of Woodpeckers in a panic capitulates…and immediately finds the new patron - the supporter.
On - to another it also couldn't.For the politician - the bore which typical representative is «the youngest former head of a regional council» , it is quite natural. Main thing–to catch support, and there the yesterday's benefactor it will be possible and «to throw» , if it doesn't become interesting and it isn't favorable. And especially it isn't necessary to understand that the new patron who became this time Vadim Novinsky is. As speak at us: «more cleverly than a tel of two uterus to Sosa» - here and Igor found to himself a new boob–only this time Russian boob of Novinsky–it is already almost empty…
Romantic prospects.
Thus, to any nikolayevets it is clear that Novinsky– «grave-digger» shipbuilding of our city, buried finally the last hopes for its restoration (and «Ocean» and ChSZ are destroyed already physically). Millions of hryvnias persistently not paid by Novinsky to the city budget of Nikolaev for all these years use of the earth under shipbuilding plants isn't sent to repair of roads, purchase of harvest equipment, improvement.
And further to continue to save on life of citizens of Nikolaev–it is necessary obedient measures who is afraid to demand though that for citizens that from the supporter–here what price for Nikolaev «boobs» Novinsky and Igor Dyatlov at it…
Since spring of 2014 of Woodpeckers became the direct helper of Novinsky. That attaches it in the list «Oppositional block» , however the desired position of the head of a regional staff departures from Dyatlov's hands. The offense demands compensation, and here already we see in the City Council under control Dyatlova fraction «Oppositional block of Nikolaev».
Attempts in itself to capture just formed project by very few people would be interesting, except a narrow circle of political strategists and political journalists. However right now, when the new public and party picture of Ukraine and Nikolaev is only formed, there is a real threat of usurpation of institutional opposition.
The benefit, protest moods grow in society and if to present themselves as uncontested opposition, it is possible to receive good result on elections. The rank won't prevent «main oppositionist» and on mayor elections preparation to which, on the instructions of Novinsky, not the first month is conducted in «Yakorke» on Admiral's.And in social networks and in comments to news periodically there are groups of the paid bootlickers claiming that if not Igor Sergeyevich, not to see to Nikolaev the world and tranquillity. Amen.
Always big political waves lift dirty foam from the bottom. But, as showed experiment, to ours «to the oppositional hero» just right to remove the sweet skins from such garbage.
Thus for the power the best opposition also you won't think up.
Such opposition–evident embodiment of all main propaganda cliches. The corrupted representatives of the old power kindling hostility in society remained unpunished and now come back. Thus they, practically without disappearing, get support from Russia, acting as agents of its influence–economic and political. Generally, the authorities can sleep peacefully. Can declare that no pro-Ukrainian opposition exists, there are only corrupt officials and the Kremlin agents.
p.s.
Task of all thinking citizens, be they supporters of the power or opposition, or skeptically belonging to policy in general not to allow such «heroes». But also fans of romantic prospects let keep at a distance.