On May 13, activists of All-Ukrainian youth public organization "Democratic Alliance" picketed the Nikolaev railway station. This action "was called Got! " (something familiar, you don't find? ) or "Hand over a bed".
Picketers wanted to hold the event in the station building, but it to them, naturally, didn't resolve. By it "pointed" at all to the station square, and there where minibuses as the station square, according to station administration (according to picketers) is a platform drive about.
At the station building young activists distributed the leaflets, proclaimed the requirements in the megaphone and even amused passersby small theatrical performances.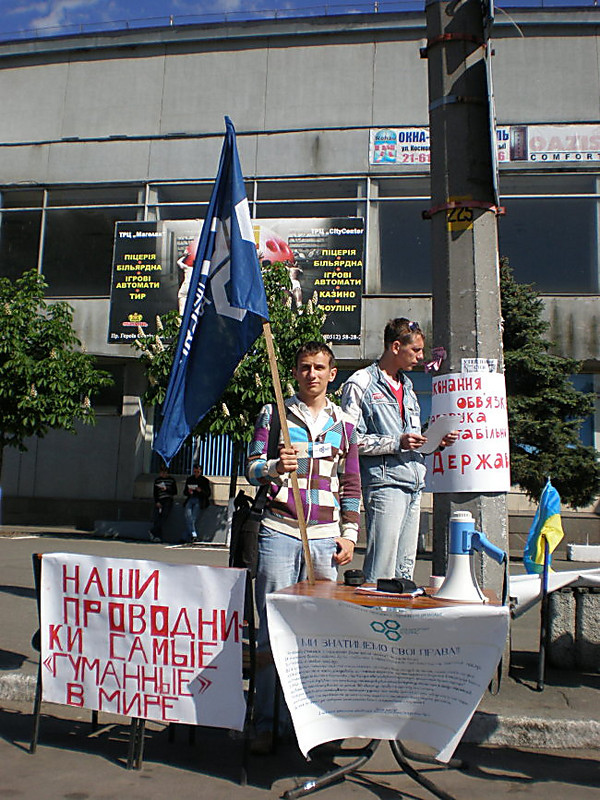 According to picketers, conductors in trains quite often restrain the passengers in their rights, don't carry out the duties (registered in "An order of service of citizens by rail" and in "The instruction for the conductor of the car of interstate connection"), and the management of the railroad whether doesn't know about these violations, whether simply closes to them eyes.
Picketers paid attention to the following violations. Conductors in trains demand from passengers before an exit from the train to collect and hand over a bed (though the conductor as "demalyansovets" consider, has to do it, after an exit of passengers). Quite often so-called "sanitary zones" when toilets in the car are closed, last for hours that also oppresses passengers. There are cases when the conductor deprives of the passengers of other necessary "thing" - boiled water, compelling people to buy in the car from it tea - coffee.
During an action also sounded that in each car there have to be plates with information on the cost of paid services, excerpts from rules of journey. In compartment, couchette and first-class carriages passengers of all trains not less than three times a day have to be provided with tea, boiled is hotter and the cooled water (round the clock! ) and in the general cars - drinking water.The conductor is obliged to disclose in the afternoon names of points of a stop, to report about borders of sanitary zones and duration of stops, and in case of need - to render to passengers (free of charge! ) first aid.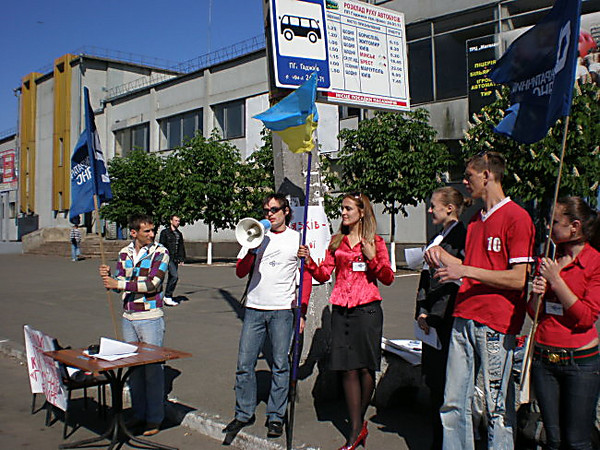 "Neither complexity of work, nor the endured troubles, bad mood or health don't grant the right to the worker of the railroad to talk to the passenger in tone of disrespect", - is spoken in "The instruction for the conductor of the car of interstate connection".
Such actions, according to organizers, are held in nine large cities of Ukraine.
Whether conductors, administrations of stations and the railroad to requirements of picketers will listen, it isn't known. And that to passengers a reserved seat three times a day will bring hot tea (let such situation though it will be three times stated in "An order of service of citizens by rail"), in general it is hardly trusted!.