Today, on May 15, inNikolaevbusiness - the Aleksandrovsky center I took place a press - the "Human Rights = Rights of Gays and Lesbians" conference. As initiators of its carrying out the Nikolaev association of gays, lesbians and bisexuals "LEAGUE" acted.
Head of the Nikolaev association of gays, lesbians and bisexualsOleg AlyokhinI declared to representatives of the press that the Nikolaev authorities forbade gays and lesbians to carry out public actions within the Iridescent Spring — 2009 festival which it was planned to hold in Nikolaev from May 15 to May 17. According toOleg Alyokhin, it is a bright sign of discrimination, and also violation taken by Ukraine at the international level of obligations.
We will remind that on May 14 the court session in the claim of the Nikolaev Executive Committee of the City Soviet of People's Deputies to Association of gays, lesbians and bisexuals "LEAGUE" came to the end in favor of the city authorities. After long thoughts the court satisfied this claim and forbade carrying out in Nikolaev of the Iridescent Spring festival. According to the judge, inadequate preparation for holding this festival became the main reason for refusal.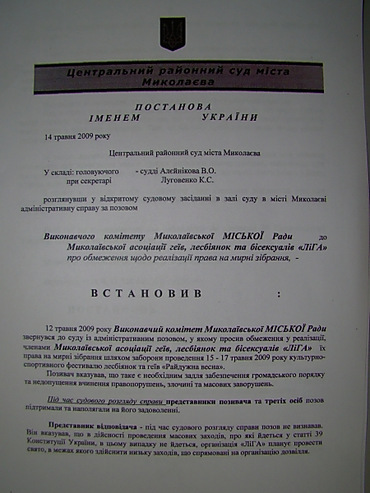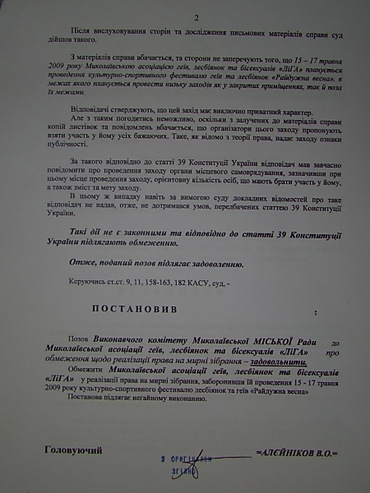 Oleg Alyokhin declaredthat "LEAGUE" intends will appeal to Appellate court to appeal against this decision. According to him, they provided to the judge all necessary information on holding a festival, simply asked not to disclose it publicly.
"It not the city gomofobny, is the gomofobny city power in Nikolaev", - Oleg Alyokhin declared. Having added that will dispatch to all Nikolaev officials"happiness letters", in which will explain that such a flash - моб that in a day on May 17, etc. He hoped that next time "we will say not that such on May 17 and as to carry out it".
The head of Association of gays, lesbians and bisexuals tried to explain that the purpose of this festival consisted at all in promotion of nonconventional sexual culture as declared the city authorities, and in presenting the public of nonconventional orientation at regional level.In his opinion, nothing will be able to break so mass stereotypes, as sporting and cultural events.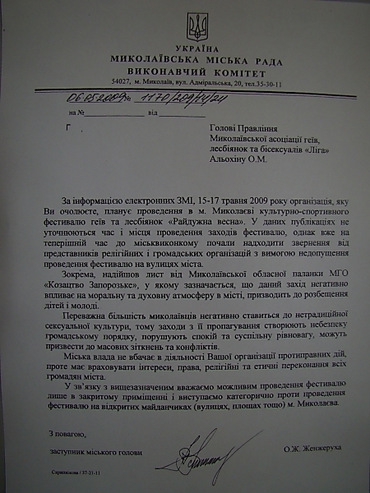 "We aspire to that our culture could develop, we had access to information and could propagandize a healthy lifestyle, - declaredOleg Alyokhin. - Those actions which we planned, had to help us to communicate and feel freely free, to show that subculture which exists in our society".
According to the head Tsent of information "Genderdok - M" (Kishenyov, Moldova)Alexey Marchkov,which also was present on a press - conferences, behind all this (the religious organizations stand a ban to hold a festival - the Edition). Then declared that in the European countries about festivals already and the speech isn't present as there now carry out huge parades in which thousands people participate.
"They don't propagandize immorality or the actions directed on corruption, family decomposition. It is exclusively educational activity and fight against HIV distribution - infections", - I toldAlexey Marchkov.
Oleg AlyokhinI declared that if the Appellate court will satisfy a protest against the decision of the Central court, the festival will be held, and as for the International day of fight against a homophobia, this very important event which has to take place in the city, the city power wants it or not.