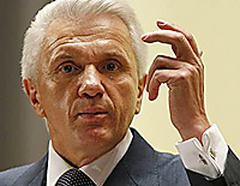 In newspaper editorial office"Business"there was a closed order of the speaker Vladimir Litvin to which he for life provided itself(himself) with the official car and the room in parliament.
The corresponding order No. 296 was signed by Vladimir Litvin still on June 7, 2006 - a month before his leaving from a parliament post of the head. For three years in the Verkhovna Rada officially held back the document.
And only now parliamentary committee on questions of regulations, deputy ethics and it is material - to technical ensuring activity of the Verkhovna Rada, headed by Alexander Efremov, I provided to "Business" the text of this order.
It agrees to the document signed by Litvin, the states can count on "special care" and Arseniy Yatsenyuk with Alexander Moroz which also held a post of the speaker. All chairmen of the Verkhovna Rada upon termination of the powers are provided with an office in office buildings of parliament, and also the official car "for permanent job".
At the same time the ex-the speaker of legislature are assigned to everyone the adviser and the assistant.
According to committee on questions of regulations and deputy ethics after at the end of last year Litvin was elected again the speaker, the state assigned to it at once two official cars. However, officials didn't begin to call brand of a car and their cost. In parliament only specified that in 2008 the Verkhovna Rada at all didn't get cars.
According to safety requirements of the top officials of the state, the car of the speaker is accompanied constantly by two cars of service of the state protection. Besides, the official of such level is for life provided with the state giving and has the right for free rest in the parliamentary sanatoria located in the Crimea.
By the way, according to the declaration on Vladimir Litvin's income for 2008 - the poor person is enough not. Litvin has a personal Toyota Land Cruiser car, at a family - the Chrysler Pt car. Cruiser. He also owns the land plot (4698 square meters), the apartment (259,8 squares) and garage (18 square meters). Family members have land share (9,56 hectares), a house (shed) about