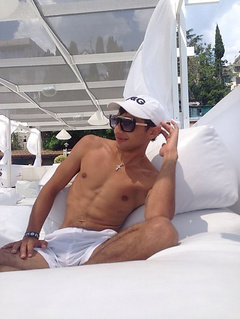 The resident of Nikolaev Alexey Kazimirov who brought down to death the student Yulia Kalancheva four years ago and left her to die, showed on the new page on a social network «VKontakte» , as he enjoys freedom in resorts and in Nikolaev.
It is known that on February 21, 2011 in Nikolaev Alexey Kazimirov at a wheel of the car «Mercedes» I brought down to death 20-summer Yulia Kalancheva– the girl died on a scene. Driver «Mercedes» from a scene I disappeared, but it was soon established and detained. As a result the Central district court of Nikolaev found Kazimirov guilty of Kalancheva's death and sentenced to 6 years of imprisonment.
However, a month later after Cassimeres it was transported under guard in a colony of the Kherson area, on July 20, 2012 Belozersky district court of the Kherson area I released it on freedom, referring on allegedly found at it «fatal illness» - the progressing brain tumor. However, despite it, quite healthy condemned Cassimeres, it was noticed after that walking around the city, often appearing in night clubs, the bars Nikolaeva, and more than once in the downtown visits snackbar «Kebab» with friends.
Having published photos of the pastime, Cassimeres once again I let know that it has no fatal illness that confirms, to put it mildly, groundlessness of the judgment which released it from prison.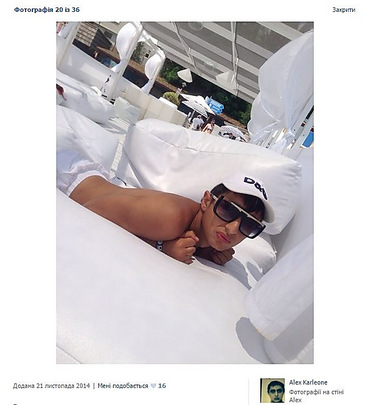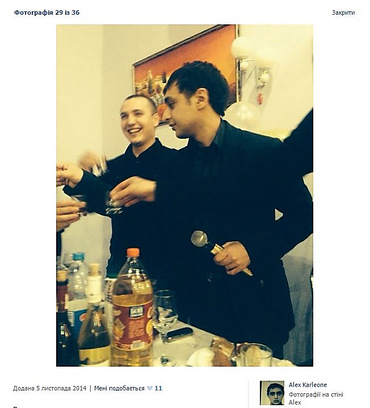 So, Alexey in November of last year, judging by photos, hasn't bad a rest on one of foreign resorts. At least, in pictures it looks more, than healthy.
Actually other photos published by it show all that Cassimeres who on today's den has to serve sentence for the committed crime in imprisonment places, enjoys freedom and idle life, in spite of the fact that «according to documents» it–fatally sick with the progressing brain tumor.Actually, any photo from hospital or the illness connected with treatment on to the page Not to find Kazimirov.
Also on Kazimirov's page it is added by him the picture with an inscription is quite characteristic: "The gun can never and it isn't required. But if there is a situation when it is necessary, it would be better. And let it is better twelve judge, than six bear".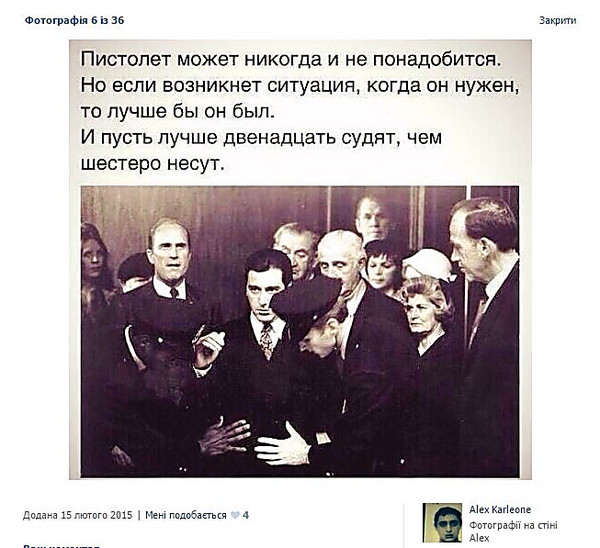 On the page Alexey published the status of the following contents: «Life is given once! So live it adequately!!!».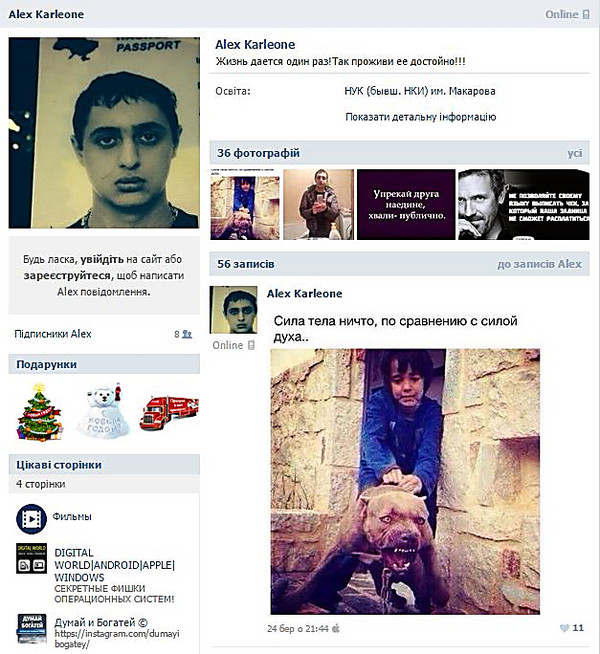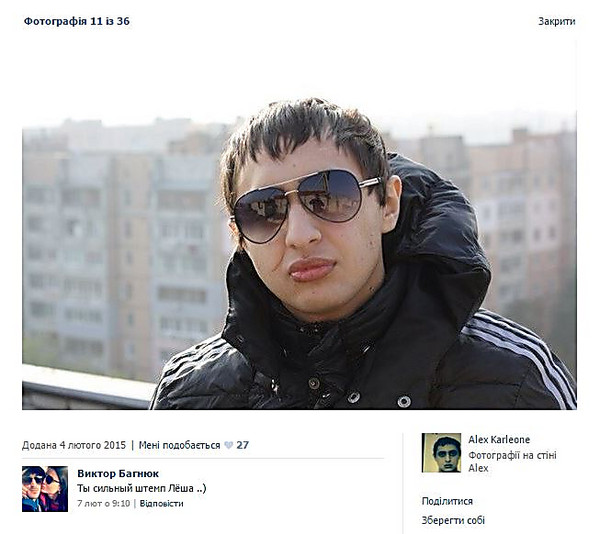 As it was already reported, recently Cassimeres was again it is noticed at a wheel of the car «Skoda» silvery color with the state number BE2368B І, then, in some days, the staff of GAI after a pursuit of it through all city, detained it and issued on it 4 administrative reports–in particular for driving of the car without the rights for it.
It is known that the main argument of protection of Kazimirov and doctors, in particular the chief physician of BSMP of Nikolaev Alexander Demyanov consisted that from - for tumors of a brain of Cassimeres very badly sees therefore didn't notice the girl crossing the road. In the courtroom of Cassimeres, sitting in a cage, I imitated «strong headaches» - to it even caused crew of an emergency medical service, but after release from prison symptoms where - that disappeared. Today, four years later, obviously, the tumor doesn't progress any more, and on the contrary, regresses, time of Cassimeres began to see everything and to drive on a car across Nikolaev, running away from the staff of GAI.
At the same time, It should be noted that «the progressing tumor of a brain» doesn't prevent Alexey Kazmimirov to be fond «grass» , which militiamen found in salon of its car, and to take alcohol that it shows on one of the photos published in a social network.
We will note also that sentence of court besides imprisonment Kazimirov managed which successfully «to bypass» , to it was also awarded to pay 50 thousand hryvnias of material damage and 200 thousand moral to relatives of the girl hit it to death. However, as reported «Crime. Is NOT PRESENT» the mother-in-law lost Irina Kalancheva, still I didn't pay kopek of compensation of Cassimeres, and, obviously, isn't going to do it.