In May Ukraine was visited by the founder Enshin Karate Kancho Yoko Ninomiya which Enshin Karate held in our city a seminar for athletes of the Ukrainian and Russian organizations. Besides, within a seminar in Nikolaev passed the Cup of Ukraine through Enshin Karate among children and juniors in which 120 young athletes from Ukraine and Russia took part.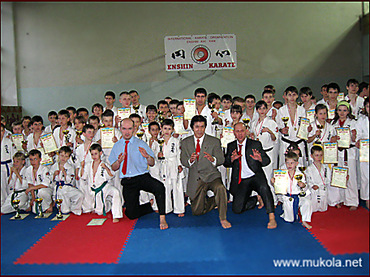 According to the official representative in Ukraine International organization of karate "Engshin Kai Kang" of Victor Nikitenko, Kancho Yoko Ninomiya noted high level of the organization of a seminar and tournament, good equipment and strong-willed qualities of athletes. And on heat and intensity of duels this детско - youthful tournament quite could compete with any International tournament among adults.
By quantity of the taken prizes the first all-command place was occupied by the Nikolaev athletes, to the second step of a pedestal there ascended team of Sankt - Petersburg, and ochakovets became third.
The prize for the best equipment was won by nikolayevets Maxim Chenash - his final fight with the Russian became decoration of tournament. And our compatriot Marina Samborskaya, despite a serious trauma, showed big strong-willed qualities and won first place, having won the final against the sportswoman from Russia.