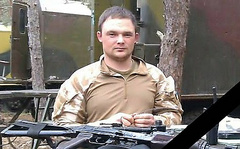 The Nikolaev paratrooper from 79 airmobile crews «Signal Marshal» in memory of the colleague, the deputy commander 1-го a battalion 79-й separate airmobile crew of Artur Koshapov who was lost as a result of road accident on Thursday, May 14, I told about fighting feats of the friend.
Reports about it «NikLife» with reference to Facebook «Marshal».
It is known that the tragedy happened on the prospectus Stalingarad's heroes around gas station «Lukoil» at turn on Ingulsky Bridge.
«... you remember, Artur,
On March 2, the first to armor group left under the Crimea for performance of fighting tasks.
the ambassador Izyum, storm of the Red Estuary, the first serious fight, it was the longest day in our life, the first serious fighting experience.

work on Slavyansk, Kramatorsk...

after "Bravo's" height, "Granite", Dyakovo, software Dovzhansky, Krasnodon, Izvarino.
maintenance and delivery of the vital freights across the territory seized by the opponent, fights, ambushes, shellings.

and our fight for Trophîme and an exit of a column with the food, these bullets whistling at a temple... your work with the tank, cover us during evacuation of our wounded children... your cover and a conclusion of cars from under Saur Mogily.

and work in terminals of port in Donetsk and on the area.
you remember... as we were lost and passed the terminal and poperl in a critical zone.... You jumped out under fire with a smoke in hands and brought our group to yourself in the terminal...

your last fight near Debaltseve on Logvino's capture.
not возмутимо, to the utmost under heavy fire You knocked on hatches of cars that will reach the driver.
you remember.

You always protected the children, trained, cared, lived with them!!! You are an Officer from capital letter, You are a Person!!!!

You always were with us and everywhere went ahead, with a quiet steady voice and a cool smile upon the face and words: "I am "Kilo" reception, at me 4.5.0 хе хе"
so faryou remember...

here and now you left forward, left before all... forever I left...

forgive us buddy, forgive...have a rest with the world companion Mayor, the earth to you down, the friend!» , - he wrote on the page to Facebook.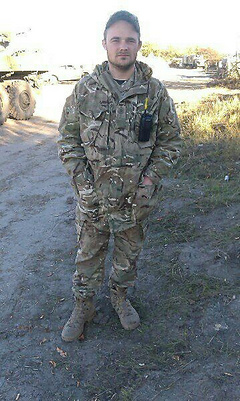 In February, 2015 the President of Ukraine Petro Poroshenko awarded the major Artur Koshapov with the Order of Bohdan Khmelnitsky. Farewell to the soldier will take place on Saturday, May 16, at 9.00, in church, at military unit in the city of Nikolaev, on Geroyev Stalingrad Avenue.