On Saturday, May 30, in Krymk's village of the May Day area meeting - the requiem devoted to memory of lost heroes - underground workers of the youth organizationtook place"Guerrilla spark". At the request of the governor of the Nikolaev areaAlexey Garkushameeting was opened by the deputy governor - the chief of staff of the regional state administrationDmitry Oboronko.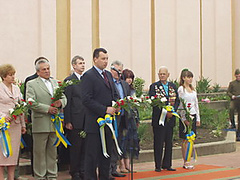 "Today our meeting on Krymki's legendary guerrilla earth is a symbol of fidelity young to nice traditions of our people. Every year in the spring when are poured by a field ear, gardens blossom, high herbs of Kodymsky coast rise, here to Krymka from all corners of Nikolayevshchina there come representatives of different generations to incline the heads before light memory of young patriots, heroes - underground workers of the youth organization "Guerrilla Spark". To pay a tribute of respect to their family. Origin of this tradition turned out to be consequence of national recognition of the importance of activity of the organization, immortality of a feat of its participants. Pass years, war wounds heal, there are from life witnesses of those events. But we never will forget a feat of young patriots which they made for the sake of life on the earth, for happiness of the future generations", - declaredDmitry Oboronko.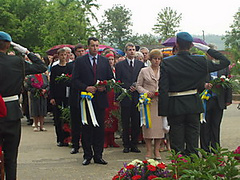 Delegations took part in this meeting from areas and the cities of the Nikolaev area.
To the gathered addressed also the chairman of regional councilTatyana Demchenko,head of the May Day district state administrationVladimir Mikhnyuk, and also participant of operationsGennady Sivachenko.
After welcome speeches as reports a press - regional state administration service, actors of the Nikolaev city youth theater"S.T.U.K. "executed the dramatized composition (a fragment from the poemA. Tvardovsky "Vasily Tyorkin"). Then under sounds of military salute participants of meeting - the requiem assigned flowers to an eternal flame.