Within the NANOSECOND Nikolaev regional organization project "We go to people" the working group of "samooboronets" I visited the Zhovtnevy area. Representatives of gobshchestvenny movement listened to complaints of locals to unauthorized production of sand in the woods near Kolarovo's village.

During clarification of circumstances it became clear - "black navvies" who destroy a coniferous forest without any allowing documents work. Activists of the October district organization "National self-defense" and the management of regional representation of "NANOSECOND" of three days serially "patrolled" places of illegal production of sand and fixed all illegal process on cameras.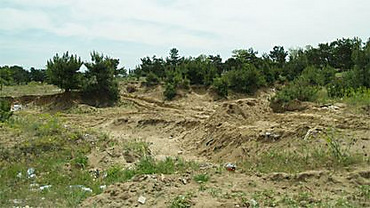 The detailed report together with official inquiries of a public reception of "National self-defense" was sent to law enforcement agencies, to authorities, ecological prosecutor's office. Some days later illegal production of sand near Kolarovo Zhovtnevogo's village of the region of the Nikolaev area was stopped.