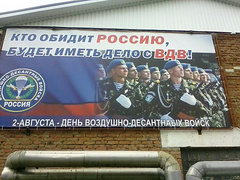 In Russia by Day vozdushno - landing troops there were posters on which the Ukrainian military are represented.
The corresponding photo was placed by users of social networks.
So, posters with the Ukrainian paratroopers are decorated by an inscription «Who will offend Russia, will deal with airborne forces!» , and in the word «landing» made a mistake.
It is remarkable that on a photo in the original on clothes of military the Ukrainian symbolics is accurately visible.
We will note that this photo of the Ukrainian paratroopers the president of Ukraine Petro Poroshenko congratulated.
At the same time, users of social networks learned in paratroopers of the military personnel 79-й separate airmobile crew which is based in Nikolaev.
We will remind that earlier the Investigative Committee of Russia gave out «White book of crimes» the Ukrainian army on Donbass, but even on a cover I used a fake photo.