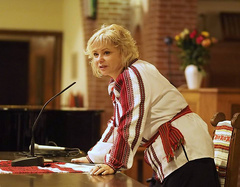 Syuzanna Dostaleva—inhabitant of Odessa, the person with active living position, here lives more than 20 years and works in the Netherlands. The next day after cruel dispersal of students at Euromaidan in Kiev our compatriot together with other Ukrainians organized an action in Amsterdam to draw attention of the Dutch authorities and mass media to criminal acts of the regime of Yanukovych.
Shortly such demonstrations developed into the volunteer movement and in the spring of 2014 Syuzanna founds noncommercial charity foundation in the NetherlandsUkraine Today. The organization gives help to the Ukrainian fighters who are at war in a zone of Anti-terrorist operation, to wounded, and also displaced persons. Humanitarian freights (medical preparations, equipment, clothes, sleeping bags and other) go to Ukraine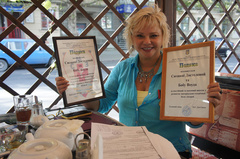 regularly. The task of fund - to help, first of all, that in our country or it is difficult to get, or costs much.
In interview «Crime. Is NOT PRESENT» Syuzanna told about the projects that does now in Ukraine, about pseudo-volunteers and why the Ukrainian Embassy doesn't help diaspora with the Netherlands.
- With what the movement in support of Ukraine in the Netherlands began?
On November 30 (2013, - PN) when beat students on the Maidan, all of us couldn't fall asleep. I started looking for in Facebook where that, as... protests, actions what to do. I found nobody, there were separate opinions therefore I simply wrote that tomorrow stand on the Lady (the area in Amsterdam, - PN). The first time us gathered the person 30, then us already was 200. When in the Netherlands showed the Olympic Games and it was told nothing about Ukraine, I had to go on hunger strike. To me home the At 5 channel left at once. Thus I managed to give a certain impetus to the Dutch mass media for illumination of a problem in Ukraine therefore I am proud of it.
Then war on Donbass began and we began to help who than can. We created the charitable organization Ukraine Today - we direct all funds which are raised by fund on anti-terrorist operation. Thus, we find sponsors and we don't spend money for gasoline that everything to uniform kopek left for needs of fighters, children, patients...Besides, all members of fund work for free and without any encouragement.
- I want that Putin with his army left my country... I don't understand that Putin does. I - meter fifty, it - meter sixty. I compensate the growth by high heels, and it compensates it the weapon, - Syuzanna in the Dutch mass media during the hunger strike noted.
- In what projects you now are engaged?Where you bring the collected help?
Now unite with us more and more the countries in Europe, and also volunteers and funds in Ukraine. At the moment there is very big project under the name «At once force» , begun with me.
What does it give? Already there is no such - «your freight» and «my freight» , «your hospital» and «my hospital» or «your division» and «mine». It means, for example, that I have beds, and my colleagues have mattresses. We gather this freight and we distribute.
Recently carried 60 tons of the help to the anti-terrorist operation zone—there was a freight from France, Holland, Belgium, Germany... Those who worked «earliergive to my children» , we retrained them - there is a warehouse, let your children will call and to them will give. If in a warehouse something doesn't appear - military can leave the demand and volunteers will make everything that this help came with the following freight.
I want to note that the most honest volunteers are involved in this project and it is worth a lot. I shouldn't demand from them reports, they come automatically to Facebook with photos.
The Dutch volunteer Bob Vauda (Bob Wouda) who is engaged in the medical equipment also joined the project. We now cooperate as a single whole and nobody pulls a blanket on himself.
The adjusted system of reports through social networks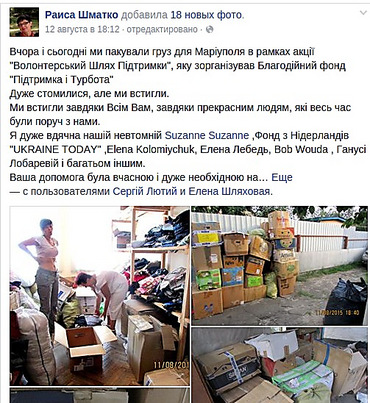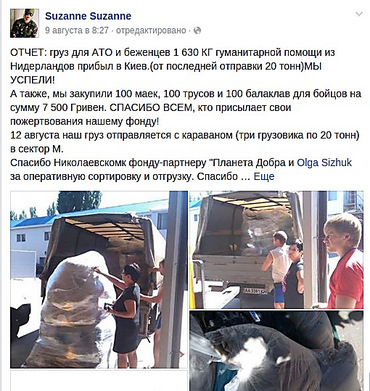 - As there is a process of delivery of humanitarian aid of Europe?Is what-that the fulfilled mechanism?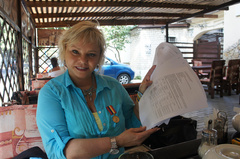 Yes, control therefore our lawyer in Holland made the contract where on points obligations of the parties are painted is very important for us.
We collect freight, we send to the accepting fund (the partner in Ukraine, - PN) the list where we specify that we want to send (for example) to Odessa, to orphanage, to anti-terrorist operation, hospital and so on.After the adoption of distribution we sign the contract and the car with freight leaves.
Our party is responsible for passing of the European customs. The accepting fund is obliged to provide us lists, reports, documents, photos from shipment and transfer of the help. All this is verified by us to the last needle. It is important for us because children here, in Europe, put in it heart and soul, they it is all some months collected, very carefully packed, and then two days put all 20-ton freight in the car.
Tens tons of the collected help go to Ukraine regularly
- And whether it happened to you to face pseudo-volunteers?
In our practice of such it didn't happen, I such «kamikaze» I didn't meet yet. But I want to note that now such people divorced too much. They detain reports in hope that people will cease to ask them, and the help simply vanishes then. Where it disappears we now we trace. For this purpose we created group of 12 people to whom also law enforcement agencies were connected - they monitor that occurs «behind the scenes» also fulfill schemes which will interfere with disappearance of freight.
I know cases when the crying volunteer calls from hospital and asks a bed from the accepting fund, and there ask: «And me that for it will be?». For example, for a bed can ask 150 euros.
Further, at such «volunteers» , which well raspiarena, are hammered warehouses. That is, they don't even manage to reach that device ultrasonography or the operating table... People shout: «Well where, we asked, give to us the account!». And reports aren't present, lists aren't present... From - for it people start trusting and endowing less, respectively—the amount of the help is reduced. It is very bad!
- That is it is possible to tell,what is the movement in Ukraine isn't absolutely developedyet,didn't pass through all thorns?That isn't enough for us in this plan?
There is a problem - Ukrainians very much want to help - and financially, and things or food, but they don't trust local funds. There were many cases when money gave me. And on my question «why not to local volunteers?» , answered: «We know that you will precisely buy on this the most important and you will precisely send the most needing».
But in general I consider that in Ukraine there is a strong volunteer movement, it is developed, but you have no experience of control of freight and there is no rigidity. Here it is necessary to work on - Dutch, everything is very simple: claimed - signed and went, reported and again went.
During our communication Syuzanna buys for memory patriotic bracelets from the little needlewoman and doesn't cease to resolve issues on collecting and delivery of the help from Europe. And in business trips of the volunteer the faithful companion constantly accompanies - a dog It is possible.
- With what-that difficulties you face at the Ukrainian customs,that there occurs?
At customs it is always interesting to it to look that is in boxes with a gumanitarka. But they are afraid to touch the equipment.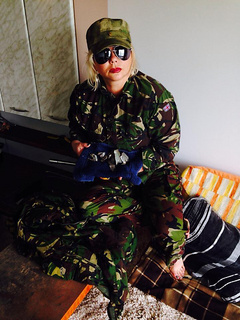 - And at the legislative level exist what-that obstacles for you?
In the legislative plan there is a difficulty that not all devices which we bring from Europe, can take on balance. Now there was a new law that if in Ukraine there is no producer of the equipment or the one who is able to serve the device, it on balance can't be taken.
And such devices at what very expensive, in Ukraine there is a lot of. Now, probably, it everything will disperse in private hands or, according to the law, will be destroyed. But we will fight against it.
I of course, understand that on the one hand they are right - they won't be able to repair this device, and it «hangs» on balance of hospital. But on the other hand, even most «sickly» the European equipment much more coolly, than all that at you costs. So it is better for Ukrainian government not to show off, and to create the experts - to send them to training that on places there were such people who will be able to serve the modern medical equipment.
- By the way,Embassy of Ukraine in Holland as-that helps you?As they they treat your activity?
It doesn't help us... but we are glad that it doesn't disturb us. I now mean the ambassador Alexander Gorin personally. Gorin works with fund which 20 years where - that to Ukraine carries humanitarian aid. Why it works with this fund, we now find out.
In general our ambassador doesn't participate in diaspora life at all. Therefore when at the new power started changing ambassadors, we wrote petitions with a request to replace the ambassador Gorin. Typed nearly 200 signatures, but then addresses where - that enigmatically disappeared. Eventually we already alive collected signatures on meeting where some person simply took and stole these papers. Addressed to the head of the Ministry of Foreign Affairs of that time Andrey Deshchitsa, to Presidential Administration, to the Anti-corruption center which helped us to organize the first actions in Holland...
But we understood that today, for some reasons to achieve replacement of the ambassador is unreal. But we didn't lower a hand. I as the optimist, I believe that in the Netherlands will be once the ambassador who it won't be simple to come to meetings and to tell something in a microphone, and will really turn facing diaspora and will help.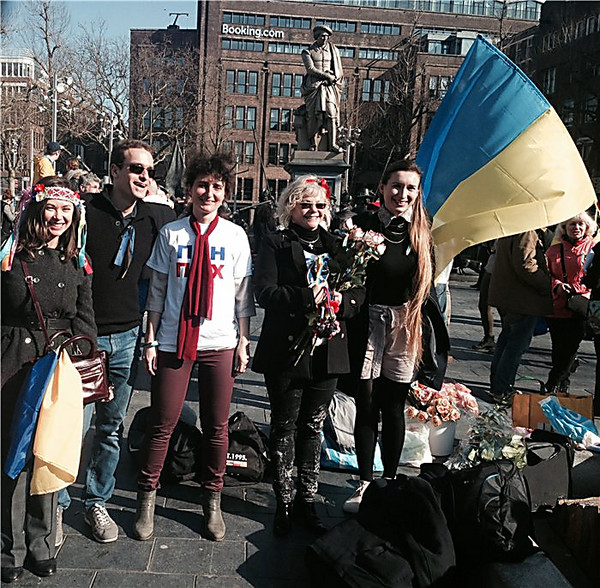 - And than the embassy could help?What main problems at persons interested with Europe to help Ukrainians?
Main problem—transport. The same Ukrainian Embassy could ask Kiev, organize for us the small machine. To us the truck by which we would do one trip and, for example, went to Germany, Belgium, France, the Czech Republic behind freight. All beg in Europe: «Take away, children!». Humanitarian aid - ton, but nobody wants to carry it because if to carry, for example, only clothes, it leaves gold of - for expenditure for gasoline. Many cities in Europe, but a problem in transport are now ready to be shipped...
Also we very need a warehouse where we could collect freight from all Europe while we wait for the car.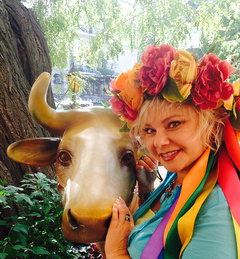 - You communicate with Dutches.That the average resident of the Netherlands thinks of the events in Ukraine?
Earlier Dutches thought that our people want to Russia, and we don't let them. Now they understand that Mariupol to Russia doesn't want but why - that shoot at it from that party. They in general understand that occurs in Ukraine. But! Our power has to give the official report at least weekly. For example, until the President personally shows the weapon from Donbass and to show its origin, Dutches will talk about Ukraine not further kitchen.
I understand that where - that in Kiev costs these all arms, but it has to sound from the head of state officially, but not so that it costs—there Dutches arrived, took a picture... and the official note isn't present. And suddenly we stole it, you understand? While there are no official statements from the top officials, all this conflict will be groundless.
- You arrived to not long-term business trip home.That you now do in Ukraine and in Nikolaev,in particular?
We delivered 20 tons of freight on fund «The planet is kind». And so far I deal with this issue...
In Nikolaev our organization cooperates with fund «Plantain» , which Mikhail Trofanyuk (the director of KP «is engagedNikolaev ritual service» , - PN). We got acquainted with Mikhail through the partner of Ukraine Today Bob Vaud (Bob Wouda). With it we sent joint humanitarian aid to fund «Plantain». I arrived to check existence of freight, it belongs to my duties.
We visited in Nikolaev Ministries of Internal Affairs hospitals (Sector of medical care of Regional Department of the Ministry of Internal Affairs of Ukraine in the Nikolaev area) and an emergency medical service (BSMP). I saw, with what good and gratitude the help brought by us is accepted and placed. We communicated to Mikhail, we have general views—after all for the European donors the most important control which, I am sure, to us will be provided here.
- We in Ukraine hope,that the conflict on Donbass will soon be resolved.Than you plan to be engaged,when war ends?You will continue volunteer activity?
To me there was an interesting case in Odessa. I got to talking with the woman and mentioned that our fund would like to help and an animal, but so far we have no control on places, we won't do it. She promised to learn about people who could be engaged in it in Ukraine. Later time this woman meets the volunteer who just supervises the Odessa dog shelter. We contacted it, she told me that to Odessa money isn't necessary to them. You represent?! I such heard for the first time. It appears, there arrived a German with money and created a shelter, and means are necessary on area now.We agreed about a meeting, however at the last minute it broke - it dashed away under Odessa where the authorities decided to take away the territory under a shelter and to destroy animals. Now we lost touch a little. But I will return to Odessa, we will surely meet and I will connect to this question of Dutches.
Therefore when ask, and what will be when war ends, you continue to be engaged in volunteering? Yes, we will be! There are children, there are schools, there are animals... and it everything in such sad state... to tears. Therefore, of course, we will be! Especially, team at us very good.
Anastasia Lugovaya (talkedBaranova)