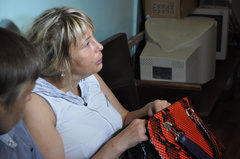 Tatyana Surovitskaya, mother of Oksana who is cruelly killed in Nikolaev three years ago Makar, told as well as on what a vein these years.
She told about it in the comment to journalists before court session on Wednesday, September 16.
Surovitskaya all this time doesn't work—according to her, fault to all age, from - for which it isn't taken for work. Now it costs at labor exchange, and on a question, on what means the woman lives Surovitskaya answered:
- It remains in secret. I have a CEO in Kiev for which I worked 10 years who always speaks to me: «Tanya, I want that you always in a bread box had a bread». It is my one and only earnings.
Thus, the woman categorically denies that lives on money from donations which sent millions of people, and claims that thanks to her the victim from hands of the monster Alexander Popov now stands on the feet.
- Sasha Popova goes? Here thanks to those 80 thousand dollars. And I could not give, I could live on this money. Why you lift this subject? For me it is low, - she declared.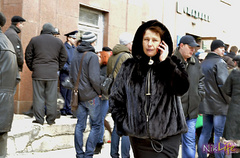 It is known that on March 10, 2012 in Nikolaev three young people raped 18-summer Oksana Makar —Tatyana Surovitskaya's daughter and to hide a crime, tried to strangle and burn it. Without watching terrible burns of 55% of a body, then the girl survived, gave evidences, but in three weeks I died in Donetsk the burn center from cardiac arrest.
We will remind, in the April, 2012 Tatyana Surovitskaya together with the owner of the German newspaper Rayko Opitts which appeared in Nikolaev after Oksana's death Makar handed to the Nikolaev BSMP the medical equipment for the mutilated Sasha Popova. Then Opitts and Surovitskaya declared that each device costs on 80 thousand dollars (640 thousand hryvnias) and supposedly one device was presented by Opitts for the money, and the second–Oksana's mother Makar on the money for treatment of her daughter offered Ukrainians.
It became clear later that this equipment was humanitarian aid for Ukraine and «costed» to the German and mother Makar of only 10 euros, and also that on this equipment there are no documents and got up a question of legality of its import to Ukraine and possibilities of use by hospital.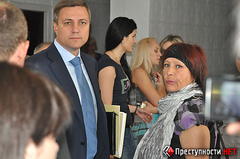 Tatyana Surovitskaya on the expiration of time on air of one of a TV show admitted that gave Opittsu without any receipt of 640 thousand hryvnias cash of donations, and herself I left 3 thousand 700 dollars on cigarettes.
The head of the Nikolaev reception of the Ukrainian Helsinki union of human rights Elena Kabashnaya, in turn, assumed that donations on Oksana's treatment Makar was many times more and that they could «to leave» on election campaign of the People's Deputy Nikolay Katerinchuk who undertook to represent Tatyana Surovitskaya's interests in court.
We will remind also that Oksana's mother Makar in October, 2012 I bought the apartment on Nikolayevskaya Street for 32 thousand dollars.