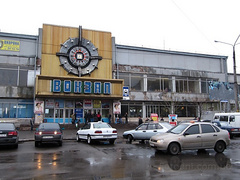 Until the end of this year on Nikolaevsk the railway station partially otremotirut facades and internal rooms, on what 6 million hryvnias will be allocated.
The chairman of the Nikolaev regional public administration Vadim Merikov during the reported a press about it - conferences on Tuesday, September 29.
- Facades, some internal rooms will be repaired and more than 6 million hryvnias are allocated. Literally in October - November they (GP «Odessa railroad» , - PN) will start implementation of the obligations, - Merikov reported.
As for capital repairs of the station which weren't carried out more than 20 years, that, according to the governor, it will be executed in 2016.
- According to my information, in the budget of 2016 «Odessa railroad» already puts capital repairs of the Nikolaev railway station, - he added.
We will remind, earlier it was reported that reconstruction of the Nikolaev railway station Odessa railroad, regional and city the authorities promised to make since 2009.
In 2013 at the station works on reconstruction of facades of the building, however, began they weren't finished.
It is known that the complex of the passenger station is put in operation in 1987, during the developing of project documentation and construction weren't considered existence of rather high level of ground waters which rise was resulted by a landslide and there was an essential deformation of the base. These facts gave to partial destructions of bearing walls of the building of the station. In the building constantly at the same time is from 100 to 500 people.