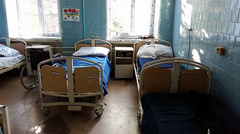 Volunteers from the Netherlands achieved from a host - the Nikolaev regional charity foundation «The planet is kind» - distributions of part of the humanitarian freight sent from Europe to destinations.
The president of fund «reported about it on the page on FacebookUKRAINE TODAY» in the Netherlands Syuzanna Dostaleva.
We will remind, earlier volunteers from the Netherlands who regularly send humanitarian aid to Ukraine, stated extreme indignation of the Nikolaev regional charity foundation «The planet is kind» , which volunteered to accept freight, however didn't satisfy conditions on its appropriate acceptance, storage, distribution and didn't provide the report.
So, according to Dostaleva, representatives of the Nikolaev fund at last shipped to the Odessa military hospital the collected help—establishment received party of beds, mattresses, infuzmata and a narcotic preparation.
«And we have also good news) Thanks to Suzanne Suzanne& BOB Wouda and to UKRAINE TODAY fund, in hospital there were new beds in that office which most of all needed them! 34 pieces in 2 stages of profit. The equipment (infuzomata - 6 pieces) passes process of statement on balance. The device for anesthesia so far without the necessary accessories, we hope that they to us will reach. Without shelving, beds are already collected and «serve» to fighters. Thanks a lot to not indifferent people in Europe who showed care of children» , - Victoria Krotova from Odessa on the page on Facebook reported.
At the same time, Syuzanna Dostaleva noted that for the entire period of work this delivery was given to volunteers by expensive price.
«But we didn't give up, and weren't afraid to publish the events, than and rescued our freight. We hope that the above-mentioned fund will and further to continue adhere to our preliminary arrangements and acceptance of additional measures from our party it isn't required» any more, - she added.
We will note that to fund «The planet is kind» the Nikolaev People's Deputy from party «has a direct bearingPetro Poroshenko's block» Borisa Kozyr. The head of board of fund is former «regional» , deputy of the Nikolaev regional council Yury Chekantsev. Also also others have relation to this fund former high-ranking «regionals» - ex-the head of organization department of the Nikolaev RSA Mikhail Vasilenko and ex-vice-the governor at Nikolay Kruglov Gennady Nikolenko. Both of them now are assistants to the people's deputy Kozyr.