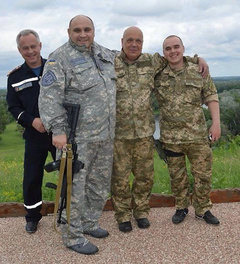 Ex-the head of General Directorate of Ministry of Internal Affairs of Ukraine in the Luhansk region the general - the lieutenant Anatoly Naumenko told how to it it was worked at Gennady Moskale when that was the governor of the Luhansk region.
He spoke about it in interview for «Crime. Is NOT PRESENT».
- Gennady Gennadiyevich–block. You understand, I worked already for it in submission in due time. Gennady Gennadiyevich could adjust completely in the Luhansk region life. He created everything that today the Luhansk region is called. He went in for region economy, - Naumenko noted. - To work with it very easily and very difficult, at the same time. It is difficult because tasks superdifficult need to be carried out, and it is easy, because tasks clear and competent. It enough - the outstanding personality and it is to that to learn. For that time while he was a governor, he deserved enormous authority at local population.
According to him, the Russian always went without protection.
- And I always very much worried about it. It was sometimes reinsured on the quiet, but he very much swore and we on this soil had scandals, - Naumenko told. - Who doesn't know it, probably, thinks that the Russian–radical. No, Russian not the radical. The Russian the skilled manager, the skilled business executive thinking. I will repeat, it is at the same time easy and it was difficult to work with it. His pensioners knew everything–he left, to all talked. It every Saturday and Sunday left to these border areas.
Besides, as the general noted, Gennady Moskal never interfered with work of militia.
- It operated processes in area only within a legal framework. Where it was necessary to help militia, it helped. He never dared to interfere with personnel policy of the Department of the Ministry of Internal Affairs. Believe, all decisions which entered competence of militia, I accepted independently, - he added.
We will remind, earlier it was reported that Naumenko who was earlier directing militia of the Luhansk region since spring of last year declared that it resigns on rotation.
We will note that in 2008-2009 the general Naumenko held a position of the head of Regional Department of the Ministry of Internal Affairs of Ukraine in the Nikolaev area. Also earlier it was reported that Naumenko was awarded with the nominal weapon for participation in Anti-terrorist operation.