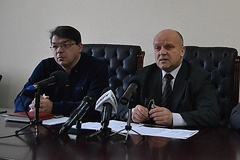 Municipal enterprise «Nikolayevoblteploenergo» began to threaten residents of Nikolaev with the Public executive service, arrest and realization of property in case of not payment of accounts for heat.
Housing and communal services stuck the announcement with the corresponding text on a set of houses of Nikolaev.
In the text of the announcement it is said that the enterprise is ready to take such measures in connection with the low level of fee in the current heating season.
- Heating of your houses can already stop in a week, - capital red letters tell in the announcement.
In case of lack of payment as write in regional heatpower, the enterprise will charge losses from inflation and three annual interest rates that will make 70% of an amount of debt on an amount of debt.
- Besides, in the absence of voluntary repayment of debt the Public executive service will impose penalties on all your income, to arrest and realize property, - it is frighteningly told in the text.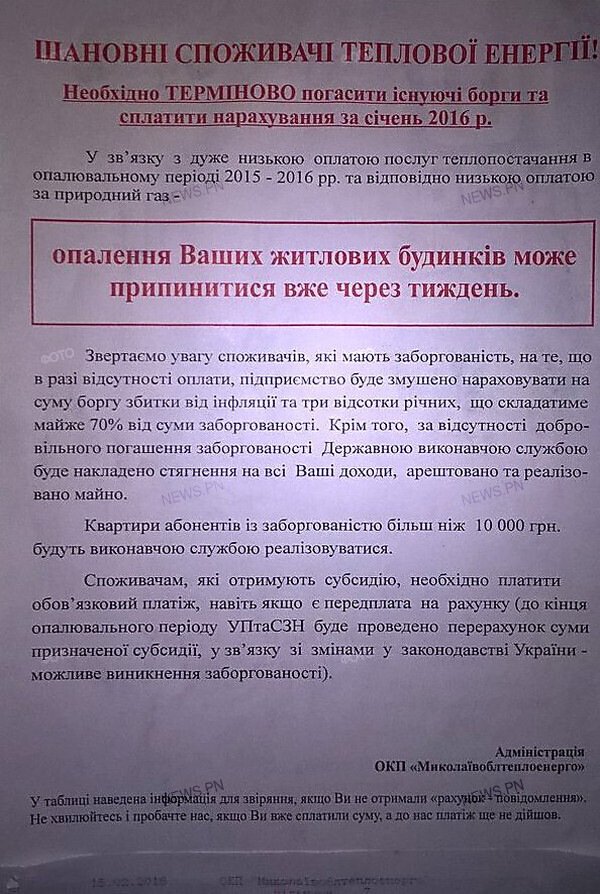 Thus below under this announcement the table with the sums of charges for heat supply on each apartment appears. For example, in the house on Vodoprovodnaya Street, 15 one apartment has no big debts–only charges for the last month from 120 to 1200 hryvnias.
Besides, It should be noted that in Nikolaev any enterprise delivering utilities to houses doesn't complain on «low level of fee». For example, public joint stock company «Nikolayevoblenergo» notes that in area payment of their services among the population makes about 98%. Moreover, according to Head department of statistics in the Nikolaev area, on types of service fee level on the centralized heating and hot water supply which made 137,6% was the highest in 2015 - that is people even pay a thicket on before.
Meanwhile, we will remind as wrote in the publication «Focuses with heat: as losses «Nikolayevoblteploenergo» put on shoulders of ordinary people» correspondent «Crime.ISN'T PRESENT» Andrey Lokhmatov, within December, 2015–January, 2016 employees «Nikolayevoblteploenergo» secretly at different times in different houses where inhabitants established heat meters, without warning anybody, twisted levers of giving of heat to houses on a maximum and sealed up them that residents couldn't regulate giving of heat depending on air temperature any more and, respectively, to save.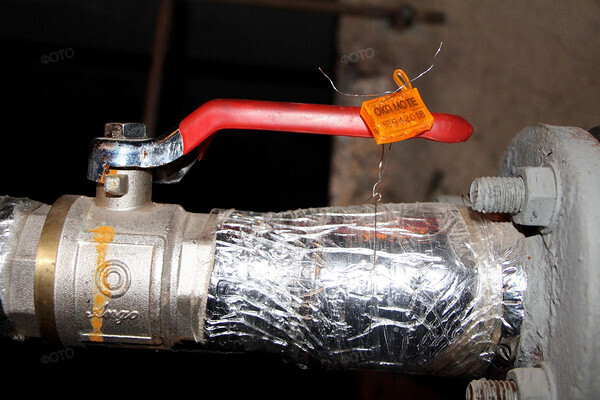 These actions of OKP «Nikolayevoblteploenergo» acting director of the department of housing and communal services of the Nikolaev City Council Andrey Palko I designated excess of the powers from the enterprise.
Also we will remind that in November, 2015 it was reported that 9 months 2015 the regional municipal enterprise «Nikolayevoblteploenergo» ended with losses in more than 8,5 million hryvnias thus that heatpower ended 2014 with profit in 10 million hryvnias.